Barkley Sample- Raleigh Regional Director of Catholic Charities
Barkley.Sample@ccharitiesdor.org
919-790-8533 ext: 2510
Barkley started with Catholic Charities in November 2019 and has brought a great deal of excitement and enthusiasm to the Raleigh region, including CPO! He looks forward to working with the people in Raleigh making a difference in our community! He has close to 15 years nonprofit experience managing large and small agencies. He moved here from Philadelphia, returning to the area after working here previously at Easter Seals United Cerebral Palsy.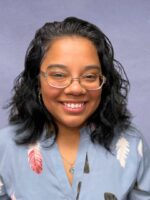 Ruth DeVito- Clinical Director/Counselor
Ruth.DeVito@ccharitiesdor.org
919-790-8533 ext. 2550
Ruth holds a bachelor's degree in psychology from the University of South Florida and a master's in mental health counseling from Argosy University. In 2017, she made the transition to North Carolina, where she has become a prominent figure in the field of mental health. Ruth is a licensed clinical mental health counselor (LCMHC) and qualified supervisor (QS) in North Carolina, as well as a registered play therapist (RPT).
Ruth has extensive experience in diverse settings, including private practice, inpatient facilities, community mental health, and mobile crisis. This rich experience has equipped her with a broad perspective and a deep understanding of the mental health landscape. Sharon Mitchell- Support Circle Program Director
Sharon.Mitchell@ccharitiesdor.org
919-790-8533 ext: 2530
Sharon is an experienced social worker with 27 years of service in the Triangle area.  She brings her experience of working for many years with Homeless, Mental Health, and substance Abused in our community. She received her undergraduate degree in Social Work, and Public Administration from Shaw University, and continued her education at NCSU, Masters Socialwork Program.  She comes to the Catholic Charities table with a love & respect for individuals experiencing homelessness and a commitment to make a difference in our community, one family at a time.