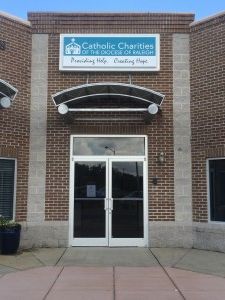 Address
726 Ramsey St., Suites 10 & 11
Fayetteville, NC 28301
Contact:
910.424.2020  ext. 2601
Hours
Food Pantry & Clothing Closet:
Monday, Tuesday, Wednesday, Thursday
9:00 a.m. – 12:00 p.m.
Immigration Legal Services:
By Appointment
Catholic Charities welcomes individuals and families of all faiths or no faith tradition.  The Fayetteville Regional Office serves the Fayetteville and Newton Grove regions which includes th following counties: Cumberland, Duplin, Hoke, Harnett, Johnston, Lee, Lenoir, Moore, Robeson, Sampson, Scotland, and Wayne. This office is a United Way Partner Agency and collaborates with community agencies to serve families in need. The Fayetteville office opened in 1981, and last year, served over 4,500 individuals in need.