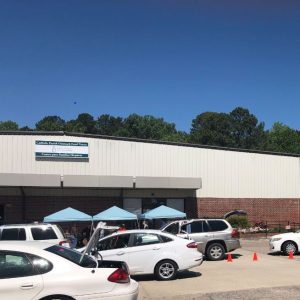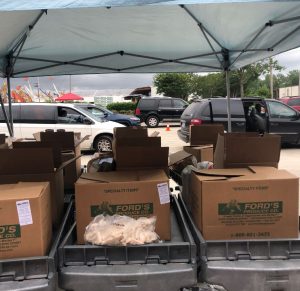 ALL clients must wear masks.
Referrals are not required at this time.
You must still wait 30 days between visits.
Clothing is not being distributed at this time.
Put your vehicle in park when groceries are being loaded.
The back of your vehicle, must be empty. If not, you will have to load your own groceries.
Todos los clientes deben usar mascarillas
No se requiere un referido en estos momentos.
Los clientes deben esperar 30 días entra visitas
La distribución de ropa para niños de edad preescolar durante la pandemia se ha suspendido en estos momentos
Estacione su vehículo en "park" cuando su comida está siendo puesta en su vehículo
La cajuela de su vehículo debe estar vacía o usted tendrá que poner su comida en su vehículo.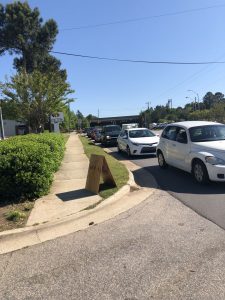 Wait in your vehicle at CPO's entrance until a volunteer directs you.
For special situations, see "Special Situations" tab:
You arrive by taxi or bus.
You do not have a phone.
You were/may have been exposed to COVID-19.
Espere en su vehículo en la entrada del estacionamiento hasta que un voluntario le indique a donde ir.
Para situaciones especiales, consulte la pestaña "Situaciones especiales":
Si llega en taxi o en autobús
Si no tiene teléfono
Si ha sido expuesto a Covid-19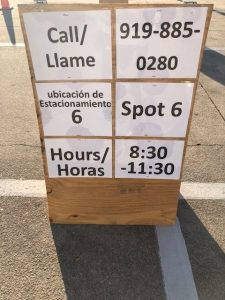 When you arrive at the information board, you must put your vehicle in park. Then call the phone number for an interview.
Cuando llegue al tablero de información, tiene que poner su vehículo en "park." Después llame al numéro teléfonico para ser entrevistado por teléfono.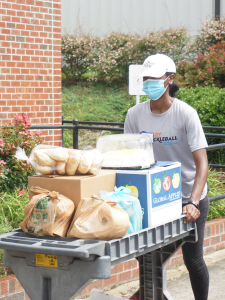 When the order is ready, volunteers load your vehicle, and you can leave.
Cuando la comida esté lista, los voluntarios le pondrán su comida en su vehículo y usted podrá irse.
Clients arriving by taxi or bus, or without a phone
Clientes que lleguen en taxi/autobús o que no tienen teléfono: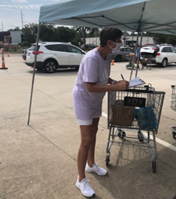 You will be interviewed in person following social distancing guidelines.
Usted será entrevistado en persona con distanciamiento social.
Clients who have been exposed to COVID-19
Clientes que indiquen que han o pueden haber estado expuestos a COVID19: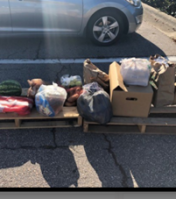 Anyone who has been or may have been exposed to COVID-19 will be directed where to park so that they can load their own groceries.
Los clientes que han o pueden haber sido expuestos a Covid-19 son enviados a un área de estacionamiento designado para poner su propia despensa en sus vehículos.