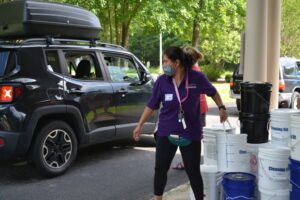 The Catholic Charities Disaster Services Program works to help individuals, families, and the community prepare for and recover from natural disasters. Catholic Charities focuses on the response, recovery, and preparedness phases of the disaster cycle.
While there is no controlling who is impacted by a disaster, economically vulnerable populations are disproportionately affected. When local resources are overwhelmed by a natural disaster, Catholic Charities is ready to respond to the needs of survivors.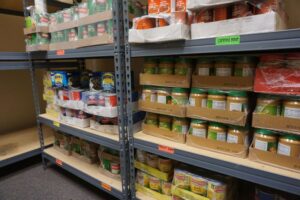 Hunger in our communities is an issue that far too many families are experiencing. A lack of nutritious meals can have long lasting effects on the physical, mental, and social well-being of all members of a family.
Catholic Charities Food Pantry Services are dedicated to providing healthy meals, increasing access to food, and developing innovative solutions to address food insecurity in a collaborative way.
With dignity and respect at the forefront of all interactions, families are offered a hand up during their most challenging times. In addition to feeding our neighbors, Catholic Charities Food Pantry Services serve as a medium for volunteerism, community engagement, and collaboration.