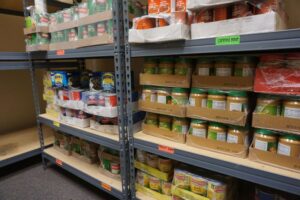 Hunger in our communities is an issue that far too many families are experiencing. A lack of nutritious meals can have long lasting effects on the physical, mental, and social well-being of all members of a family.
Catholic Charities Food Pantry Services are dedicated to providing healthy meals, increasing access to food, and developing innovative solutions to address food insecurity in a collaborative way.
With dignity and respect at the forefront of all interactions, families are offered a hand up during their most challenging times. In addition to feeding our neighbors, Catholic Charities Food Pantry Services serve as a medium for volunteerism, community engagement, and collaboration.
The Albemarle Office offers clients electronic monthly food cards. These can be used to purchase sanitary, hygiene, and food products. To determine eligibility, please contact the Albemarle office to schedule an appointment at 252-426-7717