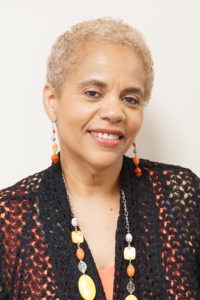 Catholic Charities is excited to welcome Ethel Higgins as the new regional director for the Tar River region. Ms. Higgins' journey to Catholic Charities of the Diocese of Raleigh has taken her many places, but one thing has remained constant, her commitment to the Catholic Charities mission.
Ms. Higgins was born and raised in Connecticut where she first began working for Catholic Charities of the Diocese of Fairfield County as the director of housing. "The mission of serving the poor and marginalized first drew me to work for Catholic Charities," Ms. Higgins stated.
After helping the New Haven community for seven years, Ms. Higgins then moved to the south where she began work with the Diocese of Atlanta. As director of emergency assistance, Ms. Higgins helped coordinate programs for the over 60,000 Hurricane Katrina survivors who evacuated to Atlanta following the storm. During her eight years with Catholic Charities in Atlanta, Ms. Higgins provided long term recovery programming for two flooding events and three tornadoes.
Ms. Higgins then moved on to serve as the regional director for Merrimack Valley with Catholic Charities of the Diocese of Boston. While in the Boston area, Ms. Higgins oversaw eight community programs including food pantry services, transitional housing, and educational training. In her role, she worked to build relationships with parishes and community agencies to strengthen the programs.
"I have been with Catholic Charities for over 20 years and that is my home," Ms. Higgins explained when discussing why she was drawn to work in the Diocese of Raleigh. Ms. Higgins now looks forward to learning about the Tar River community and building bridges to areas that are currently under-served.