This article was featured in the September 2016 edition of NC Catholics.
National Hispanic Heritage Month is September 15 – October 15.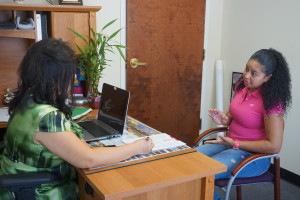 Approximately 35% of the families served by Catholic Charities are Hispanic. Many of these families are assisted at one of two locations, Centro La Comunidad in Burlington and Centro para Familias Hispanas in Raleigh, which focus on serving the Hispanic population.   The Catholic Charities regional office in Durham recently helped one of these families.
Originally from the Dominican Republic, Yomeiry Tejada was a single mother of two children when she first sought assistance from Catholic Charities. After a separation from her husband, she was left with no family support and struggled to survive.  "My husband's name was on the lease, so I had to leave our apartment.  I had nowhere to live, no food, and no diapers for my baby," Ms. Tejada, 25, said.  She moved into a single bedroom in a shared house in Durham where she slept in one bed with her daughter and son.
Every day Ms. Tejada would commute to Hillsborough and put in long hours at work to support her family. When a car accident caused significant damage to her car, her situation worsened. She began to fall behind on her rent and utility payments.  Ms. Tejada was welcomed into the Durham regional office by a case manager and received compassionate listening as she explained the challenges she faced.
With careful planning, Ms. Tejada developed goals and a case management plan.  "[Catholic Charities] was there for me when I had no one to talk to," Ms. Tejada said.  Her first goal was to get into stable housing. She applied to the Immaculate Conception Love Fund, which provided her with money to pay for the deposit and first month's rent at a new apartment. Ms. Tejada also applied to the Furniture Project to find the household items that she desperately needed.
With stable housing in place, she was able to focus on her future. She recently became a United States citizen and asked her Catholic Charities case manager to attend the ceremony with her.  "No one else would have come to the ceremony," she explained.
Ms. Tejada's next goal is to take classes at Durham Tech to improve her writing in English, and she hopes to work in accounting or business administration.  Her struggle reflects the real life problems that Catholic Charities
is presented with every day. The generous financial support from the community makes it possible for Catholic Charities to assist those most vulnerable in eastern North Carolina and bring God's Mercy to all.