In the spring of 2015, Ms. Jo'Shaki Clay's world was forever changed when her fiancé was shot and killed.  After his death, she faced many challenges with her family, her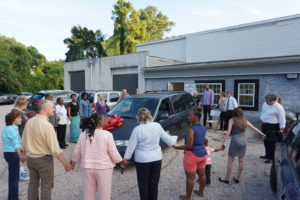 ten year old daughter Zamyia, and her two sons Myion, 5, and Zarreon, 3.  Ms. Clay struggled to find work and pay the bills, ultimately becoming homeless.
She would alternate between staying in a hotel, when Ms. Clay could afford it, and living with her mother. Ms. Clay was finally able to find a job working on the third shift.  However, she had no transportation which made getting to and from work and dropping her children off at day care challenging.  She would catch the bus, take cabs, car pool with others, whatever was needed.  She continued to go through a series of jobs, each one having its own challenges and transportation issues.
Then Ms. Clay found the Catholic Charities Support Circle Program.  The Support Circle program subsidizes rental housing for a family experiencing homelessness for a year.  The program also pairs the families with support circles formed by volunteers.  Ms. Clay was paired with volunteers from Sacred Heart Cathedral in Raleigh.  The circle provides a year of mentorship to the family while they transition from homelessness.  The support circle volunteers, along with Catholic Charities and the City of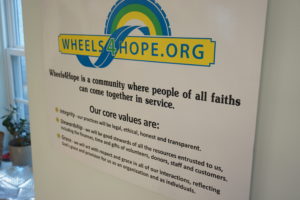 Raleigh, provide the rental subsidy.
Once working with Catholic Charities, Ms. Clay's support circle helped her to be enrolled in the Step Up Ministries Job Program.  Once she completed the program and graduated, her circle celebrated with her, then helped her job search.  After much searching, Ms. Clay was able to land a job at McCafe.
Ms. Clay began working mornings which created a transportation challenge.  She would have to get on 4 different buses to get her oldest daughter to school, her younger sons to day care, and herself to work.  To help her overcome this challenge, her support circle began picking her up every morning and taking her to work, and the kids to daycare, and to school bus stop for school for a little over a month.  They also began helping her practice for taking her driving tests.  The circle also helped her to figure out car insurance and the other responsibilities of owning a car.
Then, on Tuesday September 13th, Ms. Clay got her car from Wheels4Hope.  Wheels4Hope is a faith-based, non-profit car donation program that turns donated cars into local blessings.  "Jojo has put in a lot of work with her circle," Ms. Sharon Mitchell, Catholic Charities Director of the Support Circle Program, stated.  "This car will give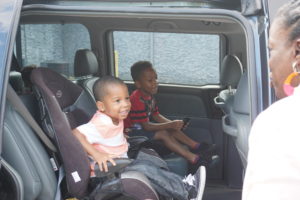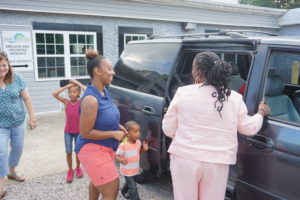 Jojo more control over her life and allow her to perform better at work."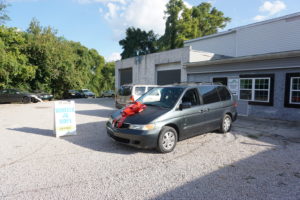 After receiving her car, Ms Clay is now able to "Get more rest, spend more time at home, and I can keep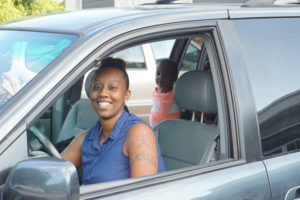 my job and get more hours and provide better for them and myself."  Ms. Clay still meets with her support circle and is working on budgeting and learning new recipes.  She also wants to go back to school (GED) and become more active with her children's school.
Ms. Clay had the desire and the work ethic to be successful, however, she faced challenges that were insurmountable without assistance.  Through the generosity of the support circle volunteers and the assistance of Catholic Charities staff, the path was cleared for Ms. Clay to provide a stable life for her family.