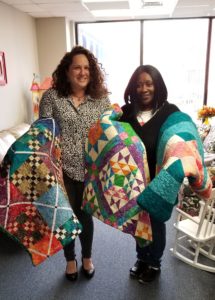 It's obvious that Darlene is fighting back tears. "I'm sorry," she says. "I don't normally get emotional like this. It's just been so hard, and I've been on my own for so long – I'm not used to having to ask for help. And I can't let my girls see me cry. They've been through enough." But the good news is that this is it. The final stretch. Almost six long months after the storm, Darlene and her two daughters are finally ready to move into a brand new home.
During Hurricane Florence, Darlene's family evacuated to her place of work. Since she cares for seniors who suffer from Dementia and Alzheimer's, she couldn't risk being stranded at home. Little did they know that they would have no home to return to.
"It would almost be easier if my girls were little, you know? If they didn't really understand what was going on. But they see me stressing out, and it stresses them out," she shares. "Between hotels and transportation and everything, sometimes they ask me what we're going to eat, and I play it off saying 'Ya'll want seafood? Then look around the kitchen and eat whatever food you see!' I don't know how to tell them sometimes that we just don't have anything more. We're always stretched thin."
Darlene sits with Ms. Daniela Vereau, a Catholic Charities Disaster Case Manager, going through the paperwork necessary to get Darlene what her family needs. Darlene pulls out her phone and eagerly shows Vereau a video of her new apartment. Together, they talk about the kitchen with brand new appliances, her dream walk-in closet, and the bathroom with two sinks, "So we never need to fight about it," Darlene points out. It has been a long and harrowing journey, but Darlene and Vereau can finally laugh at how things worked out.
It is through the generosity of partner organizations, such as The Green Chair Project, that families like Darlene's can breathe a huge sigh of relief. Through partnership between The Green Chair Project and Catholic Charities, Darlene's family received items such as mattresses and a table and chairs, as well as smaller items such as a dish pack which includes dinner plates and silverware,  Not only is her family moving into a brand-new apartment, but they don't need to worry about furnishing it. Additionally, thanks to donations from Costco, Catholic Charities was able to help ease the financial burden by sending Darlene home with some hygiene items and food.
Though she is gracious and grateful for all that's been done for her, it is not until Vereau brings out three BEAUTIFUL hand-made quilts, donated by the Carolina Hurricane Quilt Project, that the floodgates open. Unable to hold back tears, Darlene examines each carefully, noting the intricate work that went into them and deciding which ones her girls would prefer before selecting one for herself. "I can't believe how beautiful these are!" she says over and over again. "I can't imagine how long these took to make. The girls are going to love them! We will treasure these forever."