From the September / October Edition of NC Catholics
The coast is famous for its palm trees. Turns out that a new partnership — dubbed the Sharing Tree — is a special addition as well.
Wilmington's St. Mark Catholic Church and the Catholic Charities Cape Fear Region teamed up on the project to serve families in need. Father Patrick Keane, who was the pastor of St. Mark Catholic Church at the time of the project's inception, first inspired the endeavor with help from parishioner Sabina Newman, who also volunteers for Catholic Charities.
The idea is simple — parishioners are given an opportunity to help Catholic Charities families with donations of daily care items.
The idea of the Sharing Tree became a reality after Father Keane and Deacon Matthew Nwafor visited the local Catholic Charities office with Newman. On their visit, the group observed empty donation shelves where cleaning products, personal hygiene items and paper products once stood.
"We talked about the desire to provide St. Mark parishioners with a hands-on project in which everyone could participate," Newman says. "We wanted parishioners to experience the joy of sharing in a fun, practical way and to see their gifts used immediately by families in need."
Newman was amazed by the support that was shown on the very first weekend the project was held.
"We were praying we would get enough parishioner support to fill the Catholic Charities box truck … but we didn't know what to expect," she says about the event. "Everything has surpassed our expectations. In June, we filled the truck with in-kind donations, and received financial contributions from families who forgot we were collecting items."
The success of the program continued when the Sharing Tree was held for the second time in July. Again, donations filled the Catholic Charities box truck, but this time, the amount of financial contributions tripled. One heartfelt gift came in the form of a baby bottle filled with coins.
Through follow-up photos and articles in the church bulletin, parishioners see the impact their donations are making. As parishioners gather, load the supplies on the truck and distribute them to Catholic Charities families, they experience the hope of the Sharing Tree.
"We are excited about this partnership at Catholic Charities because it provides parishioners with an awareness and connection to the needs of their neighbors," Emilie Hart, Catholic Charities Cape Fear regional director, says.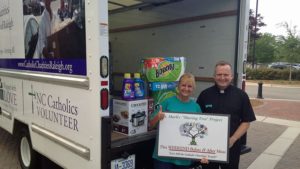 Families know what to donate each month through eye-catching advertisements placed in the bulletin and a three-dimensional Sharing Tree — complete with lights and patterned after a large oak — displayed in the church lobby the week before each month's collection. Large reminder banners are also hung outside with a few flyers strategically placed around the property. The list of requested items is generated by Catholic Charities staff and reflects the changing needs of clients.
Each month, the tree's leaves change with requested items added to the branches of the logo, with the hope that all items will be donated.
The collection of donated items occurs once a month before and after each Mass. Donations are delivered to Catholic Charities by parish volunteers. Examples of items that are collected include: cleaning supplies, paint brushes, toiletries, paper towels and disaster prep items.
"The items that are collected and distributed through this program will supplement what is normally distributed through food pantries," Hart says. "As families face high expenses while recovering from Hurricane Florence, or live on limited incomes, these donations are able to provide families with basic essentials and allow them to prioritize their funds towards other needs."
After items are collected, they are brought to the Catholic Charities office located in The Harrelson Center at 20 N. 4th St. in Wilmington. Volunteers unload and sort through the donations, dividing them into donations which will be distributed from the Wilmington office, and donations which will be brought to more rural parts of the Cape Fear Deanery.
Some donations are brought to St. Joseph Catholic Church in Burgaw, while others are delivered by the Catholic Charities box truck to communities in Columbus and Brunswick counties. Funds collected are used to supplement needed items not received such as first aid kits and tarps for protecting damaged homes.
"Following Hurricane Florence, we were blessed with donations and were routinely bringing needed supplies into these rural areas," Hart says. "As those donations began to slow, so did the distribution. Families were incredibly grateful when this program started because we were able to begin distributing these needed supplies again."
Newman hopes that the seeds from the Sharing Tree will spread and grow in other parts of the diocese. The Sharing Tree project has blossomed into an outreach ministry due to the great support of the new pastor of St. Mark Parish, Father Gregory Spencer, and the parishioners' outstanding help.
The tree recently received a blessing from Bishop Luis Rafael Zarama, who was in town for Father Spencer's installation.
"When the tree lights up on the third weekend of each month, parishioners know they have seven days to gather their gifts to be placed in the truck. It's like Christmas 12 months a year," Newman says. "We designed the Sharing Tree program to be easily shared with other parishes … we can provide a parish with advertising designs, bilingual bulletin announcements and tips and suggestions for making it work anywhere."
How to help
Organizers of the Sharing Tree Project are happy to share advice and basic materials for other parishes wishing to run a similar project. Contact Sabina Newman at 910-343-0122 or scn2515@gmail.com.