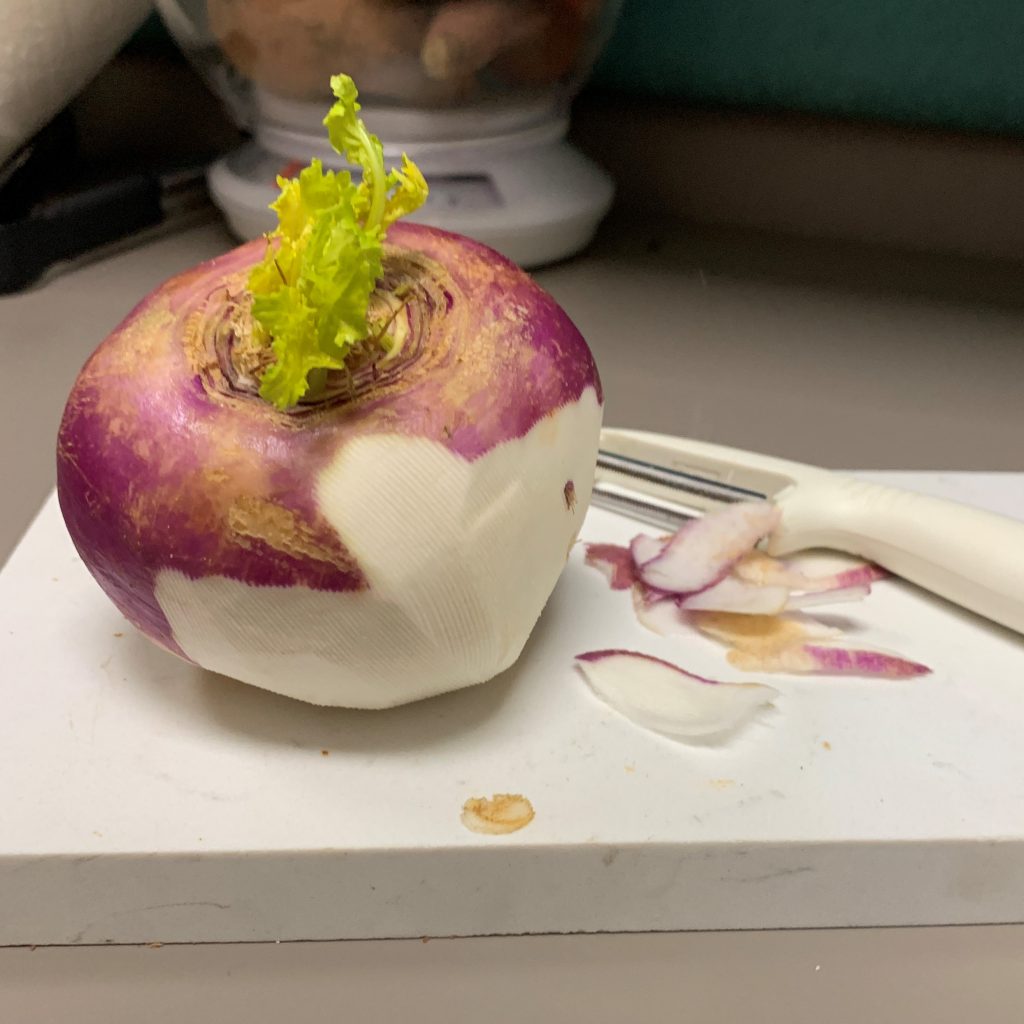 We received two pallets of fresh turnips last week, which means I had to learn how to cook turnips for the first time! Turns out, they're easy to cook and mild in flavor. These turnips are roasted in oven with salt, pepper, and butter to create a warm roasted vegetable similar in texture to a butternut squash.
You will need:
– 2 regular sized turnips
– vegetable/canola/or olive oil
– salt and pepper to taste
– 3 tbs. butter
– garlic powder (optional)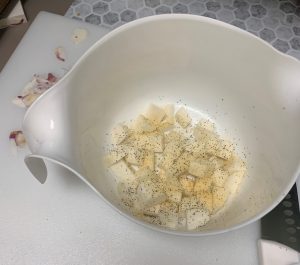 Preheat the oven to 400F .

Turnips have to be peeled before they're cooked, so peel the turnips using either a regular vegetable peeler or a kitchen knife. The inside of the turnip should be white, firm, and the texture of a crisp apple.

Cut the turnips into small cubes of roughly the same size. Each piece should be about the size of half of your thumb.

Toss the turnip chunks in a bowl with 2 tbs. of oil, a sprinkle of salt, a sprinkle of pepper, and a sprinkle of garlic powder, if desired. Stir the turnips until each piece is coated in a thin layer of oil and spices. Getting the entire piece coated in oil ensures that the roasted turnips develop a crunchy crispy skin and a soft inside.

Spread the turnips on a greased baking sheet in a single, even layer. Allow enough room between each piece of turnip so that no two pieces touch. Place small dabs of butter on and around the pieces of turnip until you've used the entire 3 tbs.

Bake the turnips at 400F for ten minutes. After ten minutes, flip the turnip pieces with a spatula or shake the pan to spread the melted butter around and turn the turnips over so that they cook evenly. Cook for ten more minutes, and serve warm.