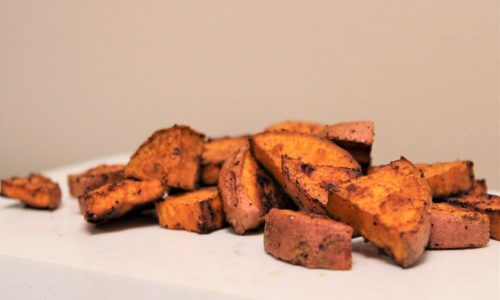 These sweet potatoes are easy and quick, making a perfect addition to a weeknight dinner. Making sure that the pieces of sweet potato are small and around the same size helps the potatoes to cook evenly and develop a crispy, salty skin. Simply bake and serve!
You will need:
– 2 regular-sized sweet potatoes
– vegetable/canola/or olive oil
– salt and pepper to taste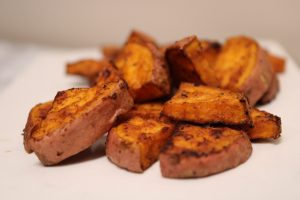 Preheat the oven to 425F . Cooking the potatoes at a high temperature for a shorter amount of time allows the insides to become soft while the outside skins crisp up.  

Wash the potatoes thoroughly with warm water, removing any dirt or roots which may still be on the skin.

Cut the potatoes into small cubes of roughly the same size. Each piece should be about the size of half of your thumb.

Toss the sweet potatoes in a bowl with 2 tbs. of oil, a sprinkle of salt, and a sprinkle of pepper. Stir the potatoes until each piece is coated in a thin layer of oil and spices. 

Spread the potato pieces on a greased baking sheet in a single, even layer. Allow enough room between each piece so that no two pieces touch. 

Bake the sweet potatoes at 425F for ten minutes. After ten minutes, flip the pieces with a spatula or shake the pan so that they cook evenly. Cook for ten to fifteen more minutes, and serve warm.