Honey Mustard Cornflake Chicken Over Salad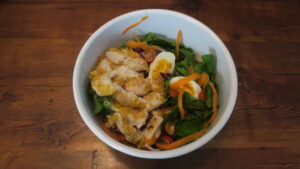 Salads are a great way to get a lot of flavor and nutrients with minimal work! You can use whatever is around you to spice up your salad. Chicken is one of my favorite ways to add protein to a salad and make it a meal. This recipe is simple and was a hit when I made it! The honey mustard coating made the chicken super moist and added a little extra flavor.
Directions:
1. Preheat your oven to 425 degrees. Prepare a cooking sheet by either lightly oiling the surface or putting down parchment paper.
2. Prepare your chicken. Defrost if frozen. Cut off any extra fat on the chicken and pat it dry. Pound the chicken so that each piece is a similar thickness and will cook evenly. This will also help it retain its moisture. 
3. Mix 1 part honey, 1 part mustard, 3 parts mayonnaise together in a small bowl. Sprinkle in garlic powder and a tablespoon of lemon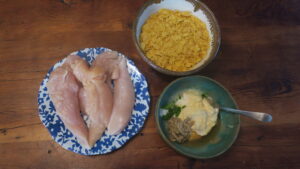 juice. If you have chives, chop them and add about a tablespoon. Adjust the flavor to your liking!
4. Set aside some of the honey mustard to be used as a dressing. 
5. Crush your cornflakes in a bag with a rolling bin or your hands. They should not be dust, just smaller flakes. You don't need much–only about a tablespoon or so per piece of chicken.
6. Dip one piece of chicken at a time into the honey mustard mixture so that it is coated but not dripping. Then dip the coated chicken in the crushed cornflakes so that the chicken is covered. Transfer to the cooking sheet. 
7. Bake for 15 minutes until the cornflakes are slightly browned and crisped.
8. Serve over some greens and other veggies! I added carrots, tomatoes, red onions, and boiled eggs to my salad. Yum!!