I am not a huge fan of eggplants…but what isn't good with some oil, marinara, and of course crispy cheese?? Eggplants are a nutritious vegetable that helps your heart and bones, and contains antioxidants to help your body fight sickness. This is an excellent recipe to get some hidden vegetables into your diet (or your child's)!
Preheat the oven to 425 and prepare two baking sheets with parchment paper, tin foil, or a thin coating of oil.

Slice the eggplant into even, thin slices, about a ¼ inch thick.

Whisk together the eggs and milk.

With each slice of eggplant, dip into the egg milk mixture, coating both sides. Then dip both sides into the bread crumbs. Place on one of the prepared baking sheets. Drizzle a tablespoon or so of oil on top of each pan of eggplants.

Bake the breaded eggplant for about 20 minutes so that the bread crumbs are crisp and browned.

In a 9 x 13 inch (or whatever you have!) pan put down a layer of baked eggplant. Then spread half of the sauce over the eggplants. The eggplant doesn't need to be swimming in sauce! Sprinkle half the cheese on top. Repeat for a second layer.

Bake for about 20 minutes. Broil for 2 minutes so that the cheese on top crisps.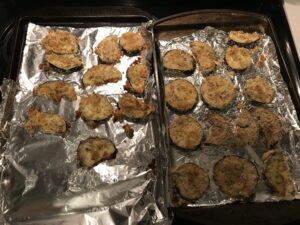 Bread crumbs: I never have bought bread crumbs around, but it takes only a few minutes to make at-home bread crumbs! If you have stale bread, this is best.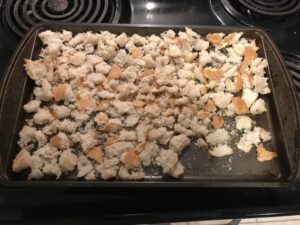 Break the break into small pieces by hand (or use a food processor) and spread on a baking sheet.

Sprinkle some oregano on top and broil on high for about 3 minutes, until the bread has crisped.

Remove from the oven and let cool. Crumble up any larger chunks.