Autumnal Beans and Pasta Soup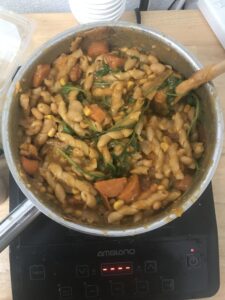 I love this recipe because you can use what you have! Substitute broth with water and extra spices. Sweet potatoes with cauliflower. Tomato paste with tomato sauce. If you don't have paprika try a little bit of chili powder. The onion, beans, pasta and spices are most important to retain the flavor of this soup but everything else can be altered to your liking (or what you've got!). Almost all of the shelf stable ingredients in this soup can be found in a DCFP dry goods box.
You will need: 
2 small sweet potatoes cubed

3 medium carrots sliced

1 white or yellow onion diced

3 cloves of garlic

1 can of chicken broth (or what you have)

1/2 can corn

2 tsp tomato paste

1 can of beans

½ – 1 box of pasta

Greens of your choice

Olive oil, 2 tsp Salt, Black pepper (to taste), 1.5 tbsp Paprika, 1.5 tsp Cinnamon, Small pinch of sugar
Directions:
Using a medium-large pot, heat a tablespoon of oil over medium heat.

Add sweet potatoes and carrots. Stir occasionally for about 5 minutes until they have started to soften and brown. 

Add your onion and another tablespoon or so of oil to prevent your veggies from sticking to the bottom of the pot (if necessary). Stirring frequently, cook for about 8-10 minutes until onions are soft and translucent.

Stir in minced garlic and cook for an additional 5 minutes

Add paprika, cinnamon, salt, and a small pinch of sugar

Mix in chicken broth, corn, tomato paste, and beans (with their liquid). Add 1-2 cups of water to thin out the soup. If you do, sprinkle in some more salt. Let it all simmer for about 20 minutes. 

Add uncooked pasta directly to the soup and cook for the instructed time. The pasta will become softer as it sits in the soup so do not over cook. 

Stir in greens until they are soft. 

Taste and adjust spices to your liking.