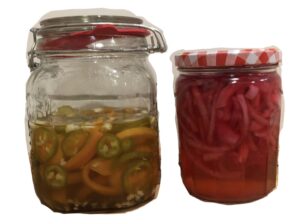 Pickled vegetables are a great way to add some extra flavor to sandwiches or salads! I always thought that I needed to be a pickling expert to make my own, but turns out it's super easy! Because these are refrigerator pickles, they don't require any canning materials.
Get creative with this recipe! Try different vegetables and spices to see what you like.
Directions:
   1.Thinly slice your vegetable and place in a jar or any sealable container
   2. Put water, vinegar, sugar, salt, and any extra add-ons in a small saucepan over medium heat. Let the sugar and salt dissolve, stirring occasionally. Once the sugar and salt are dissolved, remove from the heat and let cool for a few minutes.
  3. Add the vinegar mixture to your container with the vegetables. Allow to sit for anywhere between a few hours and overnight.
  4. Store in the fridge and enjoy! They will last for about 2-3 months.