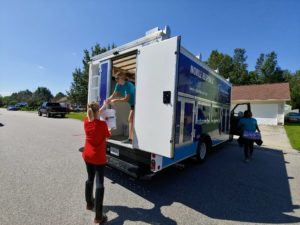 By: Kate Watson
Disasters are chaotic. It's a simple truth understood by anyone who has ever lived through one personally or professionally. Just ask Daniel Altenau, who directs disaster services for Catholic Charities in Raleigh, N.C.
With his team, he's helped respond to natural disasters such as Hurricane Matthew (2016) and, most recently, Hurricane Florence. But the team stretches beyond Raleigh, and even beyond his home state.
Altenau and Kelly Kaminski, director of disaster services for Catholic Charities of the Diocese of Charleston, first brought their agencies together in 2016 in the aftermath of Hurricane Matthew, which impacted both states.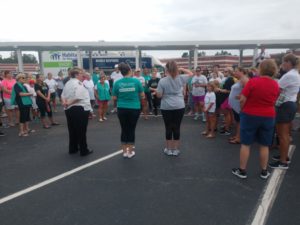 Collaboration was needed as Catholic Charities clients from North Carolina resettled in parts of South Carolina, and vice versa.
Since then they've collaborated on developing and presenting a Disaster Case Management training for the Catholic Charities Applied Institute for Disaster Excellence. Their agencies have shared planning documents, forms and recovery materials – a move that allowed them to have a unified approach.
In September of this year, ten days ahead of Florence, they knew – unfortunately – that they'd likely be called to work together again. They made daily checks about the forecast and discussed ways to collaborate.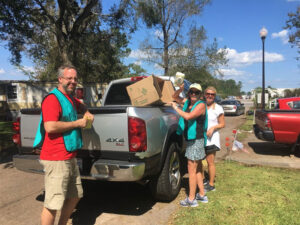 "What happens in North Carolina will also impact South Carolina and Catholic Charities U.S.A. often," Kaminski said. "The needs are so similar that if our response is collaborative, we can give and garner more support."
One of their main efforts was to create a similar service line, which allowed them to know what the other was providing. When Raleigh had a shortage of a supply, maybe Charleston had an excess to offer, and vice versa.
The two agencies often made compromises when a need arose. For example, Catholic Charities U.S.A. had a mobile washer/dryer trailer that was planned to be in N.C. for a week, and S.C. for a week.
The need in N.C. was so great, however, that Catholic Charities of Charleston offered to pause a week and delay their receipt of the mobile washer-dryer trailer. In response, Catholic Charities of Raleigh quickly went to work to secure a driver who could transport the trailer to S.C. rather than asking someone from S.C. to come pick it up.
In many ways, this particular hurricane presented new challenges, which occurred because of days of post-hurricane rain and flooding.
"We have just had this prolonged response period. It's longer than we have ever experienced in the state. The storm made landfall last month and Horry County's emergency operation center just went back to a normal level today. It's no longer in disaster mode," Kaminski said Oct. 4.
Kaminski and Altenau expect the collaboration to continue as clients seek to repair their properties or find new, permanent housing and other resources.
"Our collaboration is a natural extension of VOAD," Kaminski said. "Oftentimes when we think about VOADs we're thinking of different agencies, different partners. But it's been great to also have partnerships with similar organizations [of the same name.] We don't report to the same people, but we're both Catholic Charities."
For his part, Altenau said collaboration with his neighboring state is just one example of the approach needed in a disaster.
"In the two weeks since Hurricane Florence hit, the North Carolina VOAD has been active and doing a tremendous job of coordinating relief efforts across impacted areas," he said. "I am proud of the work we have done with VOAD partners and know it has made a difference in the state's ability to serve survivors of this terrible storm."