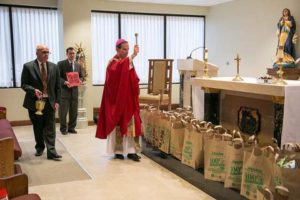 As the Thanksgiving holiday approaches, Catholic Parish Outreach (CPO) is experiencing its busiest time of the year. On Monday, November 24, the food pantry served 262 families; and 280 families were served on Tuesday, November 25.
Bishop Michael F. Burbidge joined CPO volunteers on Tuesday as they distributed food to clients. He prayed with volunteers before food distribution began and thanked them for their faithful service. Bishop Burbidge also delivered more than 614 pounds of food, which was donated to CPO by Diocesan employees. He blessed the food Monday during a special Mass at the Catholic Center's chapel.
CPO, which has served the Triangle community for 37 years, is the largest food pantry in the Triangle. With the assistance of two paid staff members and 1,800 volunteers, CPO gave 2.7 million pounds of groceries last year to an average of 11,000 people a month. It provides emergency food assistance and, when possible, children's clothing and baby items such as formula and diapers.
"CPO is thankful for our army of 1,800 volunteers, who are the arms and feet of Christ serving the poor of our community," said Terry Foley, Director, Catholic Parish Outreach Food Pantry.