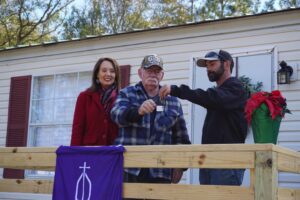 The sun shone bright while a chilly breeze blew through the air Monday afternoon when Mr. Charles Bennett, a Hurricane Florence survivor, received the keys to his replacement mobile home. Bennett had been waiting over four years for this moment. The day was the culmination of work among various partner agencies still committed to long term recovery operations in response to Hurricane Florence. Family, friends, and the community partners who made this possible gathered for a holiday celebration with Bennett to celebrate this exciting milestone.
As part of the celebration, Emilie Hart, Catholic Charities Regional Director for the Cape Fear Region, welcomed all participants and recounted the many steps it took to reach this long-awaited day.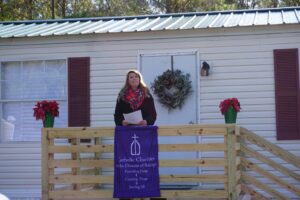 "Most of us who work in the disaster world know that long term recovery, really does mean long term recovery." shared Hart. "In disaster recovery, we know it takes creative solutions. But partnerships and collaboration are the only way we can effectively wrap our arms around disaster survivors."
The process began for Bennett following Hurricane Florence, when wind ripped metal siding from his mobile home and rain seeped through the eaves and windows, saturating the walls within. Over time, the floors weakened and warped out of shape. Mold rapidly grew throughout the entire house. Bennett needed the issue to be addressed, and quickly, as the mold caused rapid deterioration of a pulmonary issue he was facing.
"About a year ago, we received a call from Legal Aid. They were working with Mr. Bennett with the rebuild application. Unfortunately, he wasn't going to be able to continue on with that program." shared Hart.
Due to heir property issues with this mobile home, which had been passed down to Bennett from his mother, he was ineligible to receive assistance. Legal Aid called Catholic Charities looking for a solution.
Catholic Charities assessed the mobile home to understand the full scope of the damage. The extent of the mold growth meant that remediation became prohibitively expensive, with the only solution being a full mobile home replacement. Unfortunately, finding a replacement mobile home would typically be outside of the funding limitations for Catholic Charities. Then, little miracles began to occur.
Catholic Charities received a call from the NC Conference of the United Methodist Church (NCCUMC). A mobile home that had been used for staff housing supporting a repair operation in Washington, NC was available. The NCCUMC site was closing, and the offer was made to Catholic Charities to purchase the mobile home at an affordable price. The mobile home was moved to Whiteville, NC where it stayed for three months as volunteers made repairs.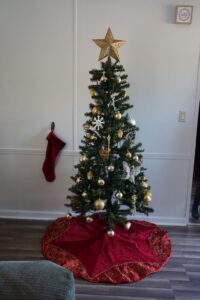 "Volunteers repaired the floors and sheetrock and completed finishing work, including installing trim and painting." shared Brian King, Construction Manager for Catholic Charities.
Once repairs were completed, the mobile home made the trip to its final location on Bennett's property in Ocean Isle Beach.
"Once on the property, we completed a few last projects including installing a new roof, building a front porch, and filling the home with a few pieces of furniture and new appliances." shared King. "We also set up a Christmas tree and hung ornaments to help Mr. Charles get into the Christmas spirit."
Bennett expressed appreciation for Catholic Charities staff and was happy to move into his replacement mobile home. "Vickie, she's been real good. Her and Brian, oh they've been good." shared Bennett. "I know God was answering my prayer, a whole lot of prayer."
In her remarks, Hart highlighted the critical role partner agencies played in the success of this project. "While Catholic Charities led the effort to get Mr. Bennett home, many hands and hearts were involved in the process."
The list of partners who made the day possible included Beckham Logistics, Jim Bowman Construction, Brunswick Senior Resources, Inc. (BSRI), Brunswick VOAD, DartILM, Brunswick County Habitat for Humanity, Lowe's, Lutheran Services Carolinas, and the NC Conference of the United Methodist Church Disaster Ministry.
As the celebration concluded, Bennett was presented with the keys to his mobile home. "I want to thank each and every one of you who had a part in this." shared an emotional Bennett.