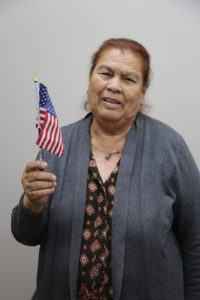 Most people celebrate Independence Day with fireworks, parades, and barbecues. For Faviana Franco de Zuñiga, this July 4th is particularly special. Faviana, who was born in Guanajuato, Mexico, has been living in the United States for the past twelve years and has been working to become a naturalized United States citizen. After a long, slow process, she finally obtained approval the week before the 4th of July.
Faviana lived a great part of her life in Mexico where she raised her children. As they grew older, some of her children immigrated to the United States. Following the death of her husband, she decided to join her daughter, Veronica, and her grandchildren, making North Carolina her new home.
Faviana never learned how read or write her native language and found it very challenging to live in the United States. However, she worked through the challenges and, with some help from the Catholic Charities Immigration Program at Centro la Comunidad in Burlington, she completed her application for naturalization.
Catholic Charities of the Dioceses of Raleigh has Department of Justice accredited immigration specialists who assist with tasks such as helping immigrants and refugees apply to become permanent residents and helping individuals navigate the complicated naturalization process of becoming a U.S. citizen.
The road to becoming a citizen is not short or easy. For Fabiana, the process was even harder due to her age and medical struggles. She remembers how she asked her son for help and how nervous she was during her first appointment. Faviana failed the exam twice, but never lost her faith and desire to become a U.S. Citizen. Through hard work by her immigration specialist, Luisa Martin-Price, Faviana was finally able to successfully make it through the application process.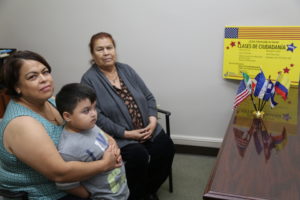 As a U.S. Citizen, Faviana is looking forward to her new ability to vote and more fully participate in life in the country she now calls home.
"In the case of Faviana, the fact that she wants to be a citizen to exercise her right to vote is a very big incentive for me. Besides, she has lived here for many years. Her whole family lives here. For her, this is her country." Price said.
"What I like most about my work, as the saying goes: 'We do not give a person a fish, we teach them to fish.' The fact of having a permit to work, like a license, and tranquility in your home is priceless." concluded Price.
Favina proudly smiles now because becoming a citizen is her dream come true. Now she encourages other eligible families to take the needed steps as well. "I love Mexico, but I love the United States too, because this where I live."