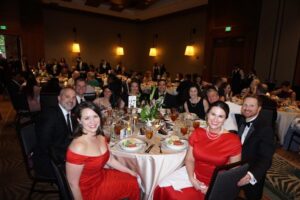 Catholic Charities celebrated its 11th Annual Gala with flair and style Saturday, April 29, 2023. The Gala was held at the beautiful Raleigh Marriott Crabtree Valley, which provided a perfect backdrop for the festivities. The record-breaking 350 attendees, including the greatest increase in new attendees in the history of the event, arrived in black-tie attire, ready for a night of celebration and fundraising. The atmosphere was electric, with a palpable sense of excitement and anticipation in the air, culminating in nearly $270,000 raised to support the work of Catholic Charities. Photos from the event as well as videos highlighting the Catholic Charities core programs can be found on the event website.
The event kicked off with a cocktail reception, where attendees mingled and chatted with one another while sipping on delicious drinks and nibbling on delectable hors d'oeuvres. The reception was the perfect opportunity for guests to connect with one another, make new friends, and catch up with old ones.
Following the cocktail reception, guests were treated to a gourmet dinner that was both delicious and beautifully presented. As the evening progressed, Board Member and WRAL anchor, Ken Smith, served as Master of Ceremony, introducing a series of speeches and video presentations that highlighted the important work that Catholic Charities accomplishes throughout Central and Eastern North Carolina. The speeches were both emotional and inspiring, leaving attendees feeling a deep sense of gratitude for the work that they support.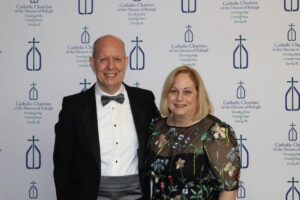 Sue Ann Glower, Chair of the Board of Directors shared that volunteering at the Durham Community Food Pantry was very special to her. "At its core, it is one small step I can take to help put a smile on someone's face." She continued, "I also appreciate the warm, welcoming environment that is fostered at the Durham Community Food Pantry, as well as at the four other Catholic Charities food pantries. It really does feel like a second family who I get to see each week."
Bishop Luis Rafael Zarama in his remarks, asked guests to, "Think about the great gift that you are giving by being here. Through you, the people are able to discover and to see the face of Jesus. Because the faith of Jesus is love and it is charity. You see the great thing that all of you are doing, is serving the church. Faith in action. Thank you for your great generosity through your wonderful hearts. And thank you for making this evening joyful".
Chief Executive Officer, Lisa Perkins shared, "We are intentional as we serve with the love and kindness that our Bishop exemplifies. We are the charitable outreach arm of the Diocese and the smile of the Diocese. Our ministry is being recognized and our leaders are being rewarded throughout central and eastern North Carolina and across the United States." She continued, "Sometimes you have to show people that what they deem impossible can be achieved."
Perkins added, "This fiscal year Catholic Charities opened and blessed two new beautiful offices with expanded warehouse capacity to serve the Cape Fear and Tar River Deaneries.  We know that with increased services and visibility we will garner the support we need to expand services throughout the Diocese. We have plans for eastern North Carolina and we are eager to enhance resources, partnerships, volunteerism, and services."
Following dinner, guests danced, continued to socialize, and enjoyed each other's company. Live music, provided by SNAP, was upbeat and drew guests to the dance floor, which was packed until the very last song with enthusiastic dancers. Outside of the ballroom, attendees tried their hand at the new and popular wine ring toss, or took time to capture a printed memento in the photo booth.
The gala fun continued with attendees competing for silent auction and raffle items which featured a wide range of amazing items, including an electric bicycle, exotic vacations, and one-of-a-kind experience packages.
The evening was a night to remember for all, filled with special moments, fun activities, and inspiring speeches. But perhaps most importantly, it was a testament to the commitment and dedication of everyone involved. The funds raised at the Gala will go a long way in supporting the work of Catholic Charities to provide help, create hope, and serve all.