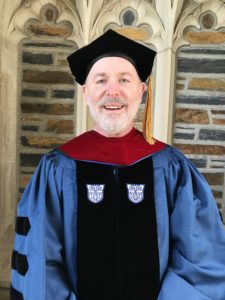 On the second weekend in May, Dr. Russ Elmayan had expected to be celebrating the completion of his Doctor of Ministry degree from Duke University. Due to COVID-19, celebrations with family and friends had to be put on hold, but Dr. Elmayan doesn't expect any delay in taking what he learned and applying it to his work for the Diocese of Raleigh and Catholic Charities.
Dr. Elmayan has worked for the Diocese of Raleigh for 30 years and serves as the chief financial officer and chief administrative officer. In addition to his work for the diocese, Dr. Elmayan also sits on the Catholic Charities board of directors as treasurer. Dr. Elmayan has an extensive combination of experience and education which has allowed him to excel in these two roles.
Dr. Elmayan graduated from the University of Southern California where he studied business administration. He then proceeded to complete his master's Degree in business administration at Duke University before taking a position with a private sector company. After working for several years, Dr. Elmayan felt a desire to serve the Church, which led him to working for the Diocese of Raleigh. While working for the diocese, he earned a master's degree in pastoral studies through online and remote coursework from Loyola University, New Orleans.
Dr. Elmayan reflected on the impact of these varied experiences, "That gave me the tools and background to connect my business education with the study of theology and the Catholic tradition."
One example of this blending of two distinct thought processes came in 2000 when some parishes were struggling financially. Dr. Elmayan proposed a unique approach to Bishop Joseph Gossman, to forgive some of the debts of the parishes.
"The year 2000 was a jubilee year. One of the biblical precepts of jubilee was the occasional forgiveness of debts. I would not have proposed that without my education at Loyola," shared Dr. Elmayan.
The Diocese of Raleigh was one of the first dioceses to take this step of forgiving some of the debt of parishes, and soon many others followed their lead.
"It was an eye opener to have the tools to connect theology, Catholic teaching, and scripture to my business background," he stated.
The desire to continue learning never diminished with Dr. Elmayan. A friend, Father Mark Reamer, had completed the Doctor of Ministry program at Duke University and encouraged Dr. Elmayan to enroll. However, projects like the building of a new Cathedral kept him busy.
In 2017, things aligned where he felt he could continue to balance his responsibilities with Diocese of Raleigh and Catholic Charities and pursue his Doctor of Ministry degree.
"I spoke with Monsignor Shugure, who was the diocesan administrator at the time. He was extremely supportive," shared Dr. Elmayan.
The rigorous program was perfectly tailored for a working professional in the church. Students formed cohorts who stayed together through the duration of the program. There were five intensive periods where the cohorts were together on campus for one week at a time. The balance of the curriculum was conducted via videoconference calls with professors and other students.
Dr. Elmayan's cohort was comprised of 20 students from ecumenically diverse backgrounds, with 13 different denominations represented, as well as geographically diverse backgrounds. Students participated from across the globe, including one individual who enrolled from Singapore.
During the program, Dr. Elmayan dove into his studies, working nights in his home office after completing full days of supporting the needs of parishes across the 54 counties within the Diocese of Raleigh. Through this busy time in his life, he had his wife, Diane, by his side.
"She was very supportive. She was very interested to hear what I learned. That made it a lot easier," he said.
While Dr. Elmayan was happy to return to the role of student, with only one big adjustment which forced him to adapt. Technology had revolutionized the educational experience since he was in a classroom. Once he understood the new systems that were in place, he was ready to move forward and fully participate in the program.
During his time at Duke, Dr. Elmayan completed courses which included studying Christian Leadership, Forming and Implementing Vision, and Inspiring and Guiding change. During these courses, study of the church's scriptures and traditions was paired with study of contemporary leadership theory and practice, encouraging deeper understanding of authentic Christian leadership.
The program culminated with Dr. Elmayan completing his thesis, "Serving and Leading Clergy With(out) Authority." The thesis evaluated how to bridge the tensions between serving and leading in a way that respects the clergy while also addressing the need for accountability in the church and in the administration of parishes.
This accomplishment was lauded by others within the diocese.
"A key component of Catholic Charities success is having board members who are committed to providing spiritual, compassionate, and innovative leadership," shared Ms. Lisa Perkins, Catholic Charities executive director. "I am proud of his accomplishments and excited to broaden our thinking and collaboration around the way that Catholic Charities, and the Catholic Church, serves those most in need."
"Russ' dedication to meeting his educational goal is not surprising given his great dedication to the diocese over time," said Bishop Luis Rafael Zarama. "The Diocese of Raleigh and Catholic Charities have been fortunate to have the benefit of his faithful leadership and service."
While Dr. Elmayan was not able to participate in the traditional commencement celebration, he left the program with the most important parts. He expects to stay in contact with the other members of his cohort and to continue to learn from each other, as they did over the past three years. In his work with the Diocese of Raleigh and Catholic Charities, he looks forward to synthesizing all that he has learned and applying it in a way that can best help the church.