Wrapped with Love, formerly known as "JoyFul Giving for Families," allows Support Circle and Pride for Parents families to purchase donated Christmas Gifts for their immediate household families for a nominal fee. Not only does this provide clients the opportunity and dignity to select Christmas gifts for loved ones, but the funds raised from the sales go back to the emergency assistance program, creating a dual impact!
We are also proud of our unique children's shop which allows children to proudly shop for their parents/guardian.
Host a toy drive

Make a monetary donation (Click Here)

Purchase and donate gifts and wrapping supplies for children and their adult caregivers

Volunteer to serve on a committee to organize and carry out the event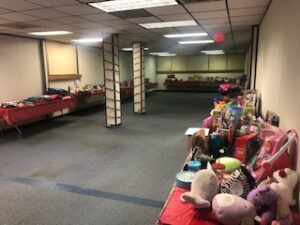 Toddlers:

Toys, Coloring Books/Crayons, Hats, Coats/Jackets

Elementary School:

Building blocks/Legos, Bicycles, Sports Balls, Skates, Games, Coloring/Activity Books, Crayons/Colored Pencils

Middle School:

Gift Cards, Jewelry/Jewelry Box, Hats/Scarves/Gloves, Nail Polish/Kits, Hair Accessories, Skinny/Fitted Jeans, Graphic T-Shirts, Stationery/Gel Pens/Colored Pencils, Phone Battery Packs/Chargers, Sports Balls, Skateboards, Bicycles, Video Games, Tablets/Laptops

High School:

Gift Cards, Jewelry/Watches, Nail Polish/Nail Kits, Hair Products/Supplies, Hats/Scarves/Gloves, Graphic T-Shirts, Skinny/Fitted Jeans, Sweatshirts/Hoodies, Phone Battery Packs/Chargers, Sports Balls, Tablet/Laptops, Video Games

Adults:

Jewelry/Watches, Cosmetic Bags, Jewelry Box, Socks, Perfume/Cologne Gift Sets, Purses, Stationery, Coffee Mugs, Hats/Scarves/Gloves

Other:

Wrapping Paper, Gift Bags/Boxes (variety of sizes), Tissue Paper, Bows, Curling Ribbon, Tape
For more information or to drop off donated items
Please contact: Selita Taylor, Support Circle Case Manager, Selita.Taylor@ccharitiesdor.org or 919-790-8533, ext. 2520
The Support Circle Program of Catholic Charities is a tax exempt, private, non-profit organization and donations are tax deductible.  Tax donation receipts available upon request.