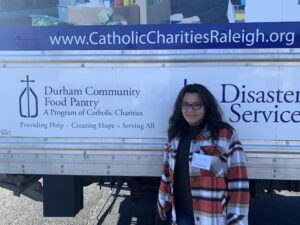 Veronica Subinas moved to the United States from Argentina 14 years ago. After traveling through Europe for much of her life, Subinas eventually settled and called North Carolina her home. Due to her frequency in moving, she adopted volunteering as her career. Having lost her father at a young age and by caring for her mother, she was aware of how important it is to have people around you who are willing to help. When deciding how best to help others while living in North Carolina, she decided to spend her time volunteering at the Durham Community Food Pantry (DCFP).
"To volunteer is knowing that you are giving back all the good things you have, love, time, patience, a smile. I chose DCFP because they were out there in the middle of one of the worst crises we've ever had. The pandemic was awful, everybody was scared, everywhere shut down except for DCFP and I told myself I want be out there with them, making things happen."
You can find Subinas volunteering on distribution days, persevering through all of the year-round elements, performing client intakes, and acting as a face of the DCFP. As a bilingual individual, she also makes the Hispanic/Latino community feel comfortable when they visit the DCFP. Individuals know that when they seek assistance, volunteers like Subinas are available who they can relate with and speak their language.
She also takes joy in making our clients feel heard and treated with respect and dignity. Often times clients specifically request to work with Subinas due to her friendly demeanor. She also volunteers in assisting with administrative duties such as the Family Advancement Services program and the mobile food distributions.
"My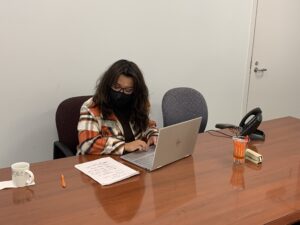 goal is to make ONE person happy every day. To make a difference for at least one. I want to make people happy, making them feel unique. Because they are. My days are happier since being a part of DCFP. I love to be here, to be part of the big group of human beings working always so hard to make the distribution happen," said Subinas.