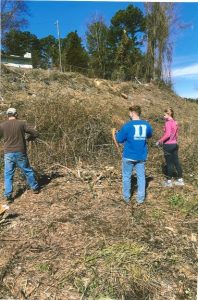 In summer 2020, the produce-packing room at the Durham Community Food Pantry filled with the smells of oregano, cilantro, parsley, thyme, and basil. Local organizations such as the Scrap Exchange and churches such as Holy Cross kindly donated bundles of herbs and vegetables every week fresh from their community gardens. Each Tuesday, volunteers marveled at the bright peppers and bulbous tomatoes. Families received boxes filled to the brim with local produce and flavors of North Carolina.
As volunteers and staff members discussed the incredible impact of the donations from local gardens, they began to discuss the idea of building a garden of their own, situated right behind the pantry. Initially just an idea, staff members and dedicated volunteers began to identify goals for the garden: to be a bright spot of nature amongst a complex of warehouses, to provide local organic produce to clients, to become a learning site for children, volunteers, and clients interested in horticulture, and to increase the sustainability of pantry operations by using food waste as compost.
In March 2021, volunteers gathered on a Saturday morning to break ground on the plot that would become the Durham Community Food Pantry Garden.
"They cleared out trash and weeds from a large patch of wasteland behind the pantry. Chainsaws were involved. It was a major project." shared Mary Drue Hall, Nutrition Education Specialist at the Durham Community Food Pantry.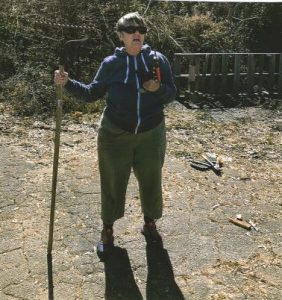 Finally, the area was clear and ready for use.
As the last of the cold weather moves out, volunteers and staff on the Garden Committee plan to plant an array of herbs, vegetables, and flowering plants. A grey fox and red-shouldered hawk that reside in the area have been doing their part to deter unhelpful critters.
"We are always looking for people to join the fun!" added Hall.
Anyone who has experience gardening or wants to learn more is encouraged to email Volunteer Coordinator Moira Roberts at dcfpvolcoord@ccharitiesdor.org.
The Durham Community Food Pantry is also looking for funding for seeds, plants, tools, and other supplies! If you would like to make a monetary donation or donate supplies, please email Program Director David Juarez at david.juarez@ccharitiesdor.org.