Staff Spotlight: Sue Williams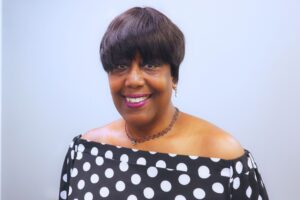 In the heart of Durham, North Carolina, Catholic Charities is making a significant impact on the lives of individuals and families in need. At the forefront of this regional office is Sue Williams, the Program Director of the Durham Community Food Pantry. Since joining Catholic Charities in December 2022, Sue has brought her passion, experience, and unwavering dedication to providing help and creating hope for the community.
Before her role at the food pantry, Sue worked in social services in New York, gaining valuable experience in understanding the challenges faced by vulnerable populations. Early in her career, Sue taught social studies and worked in a homeless shelter for women and children escaping domestic violence. Most recently, in her role as a social worker, Sue was immersed in the field of helping neglected and abused children and adults with mental health issues.
When the opportunity arose to work with Catholic Charities, Sue was drawn to the organization's reputation for making a positive difference throughout North Carolina's central and eastern communities. Her decision was also driven by the desire to work in an environment filled with hope and positivity—a perfect match for her own vibrant personality. Sue said about being at Catholic Charities, "Here my soul is awakened and fed, and I feel like I'm working with light and positivity."
In her first six months at Catholic Charities, Sue has experienced an overwhelming sense of support and encouragement from both leadership and staff. The warm welcome she received from her colleagues and the dedicated volunteers at the food pantry has helped her settle seamlessly into her role. Sue expresses her gratitude for the guidance she has received and the openness that permeates throughout the organization.
Sue's multifaceted experiences, deepening connection to the community, and contagious enthusiasm make her a valuable asset to Catholic Charities. As Program Director, she continually strives to enhance the services provided by the Durham Community Food Pantry, ensuring that every individual who walks through its doors receives the support and care they deserve. Sue warmly tells the story about a student that she met when he visited the food pantry earlier this year.
"He was about to start his internship as a medical doctor, but it would be 30 days until he started working. This individual, his spouse, and young child did not have enough food to last them until the paid internship started."
Catholic Charities, through its resources, was able to help this family so that they could make it through this time of need and continue their path toward success.
Sue shared, "Our neighbors find themselves sometimes chronically in need, and at other times in a critical period of dire and unexpected challenges. It is the mission of Catholic Charities to be there for our neighbors; providing the help which creates the hope that sustains them. And ultimately can propel them forward."
As Sue embraces her responsibilities as Program Director, she is eagerly anticipating the upcoming fifth anniversary of the Durham Community Food Pantry. Plans are already underway to celebrate this May 2024 milestone.
Beyond her professional life, Sue's personal journey is just as inspiring. She is a loving mother to three daughters and recently became a grandmother to a precious grandson. Sue finds rejuvenation through various activities, including her love for the theater and reading, which helps her explore different perspectives and ignites her creativity. Long days spent by the ocean enjoying the sea breeze, basking in the warm sunlight, and listening to and watching the ocean waves are where Sue finds a calming peace. There, she can meditate, reflect, read, and rest.
Sue's journey at Catholic Charities serves as an inspiration to all. Her positive energy and genuine compassion mirror how staff and volunteers are each individually and collectively making an extraordinary difference in the lives of North Carolinians.