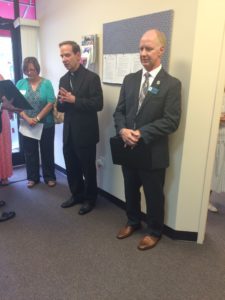 On Wednesday evening, July 22, 2015, Bishop Michael F. Burbidge blessed the new regional office of Catholic Charities for the Tar River Deanery. The new office, in Greenville, will provide much needed new space for staff, volunteers and interns in the region, and benefit clients as well.
"I am most grateful to all those who helped to find the new Tar Regional Catholic Charities Office as well as to the generous benefactor who made it possible," Bishop Burbidge said. "The doors are wide open to all those in need. In this place, they will be assisted by staff, volunteers and interns who seek to be instruments of the healing and compassionate love of Our Lord Jesus. I am so proud of the work of Catholic Charities throughout our diocese and ever grateful to all who support this essential ministry in the life of the Church."
"The new office allows each intern, volunteer and staff to have their own office," explained Tar River Regional Director Monica Raynor. "That increases the number of clients who can be assisted in a day due to privacy concerns. Clients often had to wait to be seen even though staff were available because there was no space available to meet with them in private." The Tar River Office assisted 480 families last year.
"We also collected donated food and clothing, but had limited storage for these items, which limited how much assistance we could provide," said Ms. Raynor.
The new office will also have room to provide new services, Ms. Raynor said: "We now have space to provide the observation required for the Triple P Positive Parenting Program.  We can also offer therapeutic or educational groups such as financial social work groups, job search events and training."