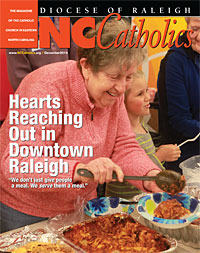 The December issue of NC Catholics is now available online. The cover story highlights the Oak City Outreach Center, a partnership with Wake County and some 30 organizations coordinated by Catholic Charities to bring meals every weekend to the downtown Raleigh homeless.  The English version of the story continues on page 16 and the Spanish translation can be found on page 22.
Other Catholic Charities stories in the December issue include a recap of the CCHD Award, Bishop F. Joseph Gossman Community Leadership and Service Award, and John J. Carey Award winners on page 4.  On page 5 you will find a short story about Bishop Michael F. Burbidge's trip to Catholic Parish Outreach before Thanksgiving.  On page 10, you will find a story about the dialogic reading program "Language is the Key" which helps in the language development of children from infancy to 5 years old.  The Spanish translation of this story can be found on page 20.
Read the full NC Catholics December issue online.