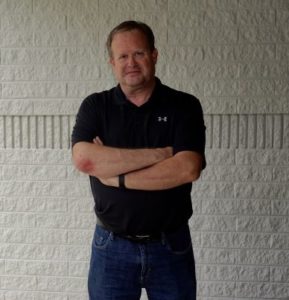 For Neal Hunter, names matter. Cree – the energy efficiency semiconductor company he co-founded in 1987 – carries his father's middle name. Colvard Farms – a residential neighborhood he developed in Chatham County – was named for his grandfather. And when Hunter, 56, decided to pledge $800,000 to Catholic Charities to start a food pantry in Durham, he thought about its future name, too.
He considered involving the name of his mother, Annabel Harrill. After all, she was the one who taught him to give. And, Hunter added, she was "almost the original single mother." A high school guidance counselor in Watauga County, she raised three boys in the 1960s and 70s after her husband, Charles Hunter, a medical doctor, passed away when the boys were young.
In the spring of 2018 Hunter talked to his mom about the possibility of having her name associated with the food pantry. Instead, she encouraged him to make the endeavor about everybody.
That's how the Durham Community Food Pantry, which will open later this year, was named. "I really want people to understand that this is about everyone," he told NC Catholics in July. "I was looking for an open name. The food pantry is to serve everyone."
Today, from a meeting room at one of his newer projects – Vast Therapeutics in Durham – he laughs about how the simplest, clearest answer is often the best one.
WHY HE GAVE
Hunter's gift is the largest single pledge Catholic Charities of the Diocese of Raleigh has ever received, according to development director Kathryn Fithian.
That's quite a distinction considering that Hunter isn't Catholic. Most of what he knows about the Church has its roots in a few Catholic people he knows.
His longtime friend and former Cree co-worker, Chuck Swoboda, is a member of St. Michael the Archangel Church in Cary, a church Hunter supported during its building campaign in the late 1990s.
It was Swoboda who first approached Hunter about supporting Catholic Charities in its effort to develop a larger food pantry in Durham.
"[It's] the people around the Church … you look at Chuck Swoboda, Scott Schwab, John Edmond, John Palmour … on and on. I look at the way they raise their families, their values and I have always said that these are the kind of people that I want to emulate," Hunter said.
Friendships weren't the only impetus behind the gift, though.
Hunter met with Lisa Perkins, executive director of Catholic Charities, to learn more about the proposed project. He heard about the organization, its food distribution system and the situation in Durham, where a one-million pound food shortage exists annually according to the Food Bank of Central and Eastern North Carolina.
For Hunter, the method Perkins described, which is used at CPO – the Catholic Charities food pantry in Raleigh, was thoughtful and focused on family. He appreciated the swift and professional nature of service, and how the organization alleviates as much paperwork as possible.
"People aren't going to use something that's going to make them feel bad or pigeonholed in a certain way," he said. "What the food pantry will do is thoughtful … we should be able to do that but, again, from an operational standpoint, that's where my business side is almost in awe of what Lisa and her team do every day."
He discussed what he'd learned about the organization with his wife, Janet, and together they were inspired to make the pledge.
"It's really almost unheard of to just realize we have people in the Triangle that have such a need. It's just kind of mind-boggling if you think about it," he said. "We are a wealthy area. And a one-million- pound food shortage? That needs to be addressed."
THE BACKSTORY
When he reflects on his own childhood, Hunter recalls hand-me- down clothes, sharing a room with his brother and vacations to state parks. Beach trips happened about every third year. But, he said, he wouldn't have had it any other way.
"I loved it," Hunter said. "And that goes to the root of how you think about wealth and the way people live. What you know as you grow up and become more self-aware is that it's about your value structure and your friends and your family."
Because of his childhood, his adult years led him to place value on experiences such as playing basketball or swimming, a sport he competed in as a student.
"Gimme a basketball and a couple of folks playing under one goal and I can be there for hours. And that would be just as fun as going any place in the world," he said.
His adult years have also caused him to reflect on charitable giving, something he engages in but doesn't often discuss publicly. He made an exception in this case to bring awareness to the cause of food insecurity and encourage others to give.
"It's always dangerous when someone says 'Hey, come down the hall and these guys want to speak with you,'" he laughed about being approached for donations. "But, again, if I am able to make a meaningful donation then why not?"
When he talks about wealth, he often stumbles on the word as if it's hard to say. He drives a high-end Tesla, sure, but he's quick to point out that, for him, that's about supporting new energy and getting rid of fossil fuels.
Interestingly, Hunter is a southpaw, which he likes to call "correct handed." And he has a special affinity for the New River, which begins near his hometown in western North Carolina and is one of a few rivers in the world that flow primarily from south to north.
While some aspects of his life may be seen as unusual, he embraces it all.
"I don't take wealth for granted," Hunter said. "So … is [this gift] a large amount? Sure. But … I was taught to give by my mom. So when I look back at what she's done, what she's had to go through in her life, the challenges she faced and how hard she worked, I never think that what I do is really remarkable at all. You put it in perspective. Just look at the different jobs people do and how committed they are to different things. I mean … it's not ever been about stopping and smelling the roses so to speak, it's been about moving forward and getting to the next thing."
– Kate Turgeon Watson
Check out more of the story: