Saturday, August 12, 2023 was a terrific day to celebrate Centro para Familias Hispanas (CpFH) with the North Carolina Football Club (NCFC). Supporters joined in watching a great soccer match against the Greenville Triumph of South Carolina.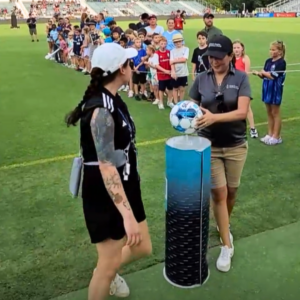 Before the match started, Maty Ferrer Hoppmann, Program Director of CpFH delivered the game ball to the field as the announcer shared information about CpFH, which has served the Hispanic community in Wake County for 25 years.
A program of Catholic Charities, and a pillar of the community, CpFH serves families in need by offering Emergency Assistance, Immigration Legal Services, Disaster Services, Case Management, and Adult and Children's Educational Classes. Last year, CpFH served over 2,400 families, impacting the lives of over 12,000 individuals.
At a time when so many families in the Hispanic community are struggling, Centro para Familias Hispanas has a long history of being there to provide help and create hope for the Raleigh community.
Hoppmann shared, "so many friends of Catholic Charities have told me that they are having a blast at their first soccer game!" Hoppmann went on to say, "thank you NCFC and NC Courage for your commitment to the community and for the opportunity to highlight CpFH! This is a great year as we celebrate our 25th Anniversary, and we look forward to continuing our partnership with you!"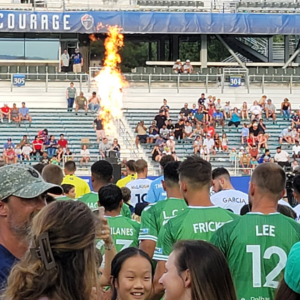 During the match, NCFC came from behind to best the Greenville Triumph 2-1 in a high energy match that kept the stadium crowd entertained from start to finish!
Catch upcoming games of NC Football Club and NC Courage, as they continue to partner with Catholic Charities and Centro para Familias Hispanas. $2 of every ticket purchased through the Catholic Charities link is donated to CpFH.
Tickets for games through October 2023 are available at CatholicCharitiesRaleigh.org/events/kickin-for-charity