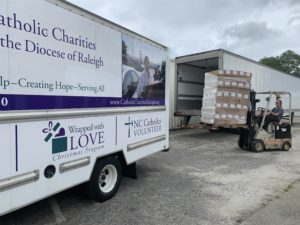 Catholic Charities Cape Fear Regional staff typically distribute food from the food pantry located in their downtown Wilmington office. In the face of the coronavirus pandemic, as with many things, the food pantry was forced to adapt. In order to better serve the community, food distribution has gone mobile, reaching remote communities facing major shortages of food.
"Historically, we had taken food and other supplies out to communities following disasters such as Hurricane Matthew and Florence," shared Emilie Hart, Cape Fear Regional Director. "We felt that the mobile distribution model would be a good fit for our COVID-19 response as many people are having to stay home or have limited resources to travel to Wilmington. We strive to do one mobile distribution a week in a different rural community each time."
The situation in Wilmington is similar to what other communities throughout the Dioceses of Raleigh are experiencing. People have been laid off, experienced a reduction in their hours, or are working low wage jobs and facing increased childcare expenses since schools moved to remote learning.  This has caused many families to experience extreme financial hardships.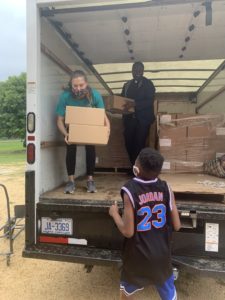 "We wanted to respond in a way that took the challenges families are facing into consideration. The result meant bringing food to them so that they are not wasting precious resources like gas money and time off work," Hart explained.
Providing mobile food distribution services has only been possible due to collaborations with other organizations in the community. This is an area where Hart and her team excel.
"The greatest lesson I have learned working disaster relief is that no one entity can do it alone.  The power of uniting and collaborating to meet the basic needs of others during a disaster is the only way things get done in a time of crisis," explains Hart.
Catholic Charities has partnered with the Food Bank of Central and Eastern NC as they are a leading agency at sourcing food. Once food is obtained, the next partnership that is required is identifying the communities where resources are low. Staff have been working with priests and other church leaders to accomplish this.
"Pastors have a pulse on the needs of the communities they serve and are a trusted source in the community," shared Hart.
Hart has been in contact with Maria de las Reinas, Santa Clara, Our Lady of the Snows, Basilica Shrine of St. Mary, the Sister Isaac Center and St. Teresa del Nino to establish mobile distribute events.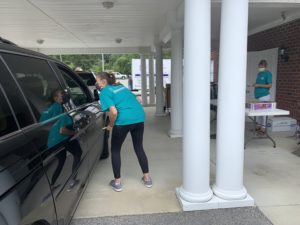 Another community partner who has stepped up to help Catholic Charities has been Community CPR, whose mission is to connect people and resources. They are networking experts and connected staff with a large donation of 675 boxes of chicken and cheese that were distributed to over a thousand individuals.
Some Amazing Numbers:
The Cape Fear Regional Office collaborated with Manos Unidas, a North Carolina Health Farmworker Program, to provide their clients with pre-packed food boxes donated by the Food Bank of Central and Eastern NC and frozen fajitas meals. This collaboration has served 147 individuals in the Burgaw, NC area.
In one day, Hart and her team drove nearly 200 miles to serve 118 individuals who were referred by priests at St. Teresa del Nino. The trip included multiple stops to provide truly local deliveries. Days later, the team delivered 75 pre-packed boxes of food to Our Lady of the Snows in Elizabethtown.
In Pender County, food boxes, hygiene kits and diapers were distributed to 138 individuals through mobile distribution events.