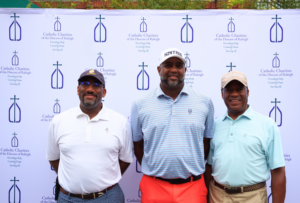 Cheers on and off the golf course at Prestonwood Country Club in Cary as golfers and volunteers gathered for the 6th Annual Drive Out Hunger Golf Outing. The golf tournament continues to grow each year with some great prizes for participants. But it's not the top prize that's drawing more and more golfers to the tournament yearly. "It doesn't matter who wins. Everyone who came out is a winner, everyone is helping to support our cause." said Catholic Charities of the Diocese of Raleigh CEO Lisa Perkins. She added, the biggest winners are our communities benefiting from the record $96,000 raised from the Drive Out Hunger Golf Outing this year. Catholic Charities operates five food pantries in Durham, Raleigh, Greenville, Fayetteville, and Wilmington to help eliminate food insecurity, with increased emphasis on extending services to those rural, hard to reach areas in the region.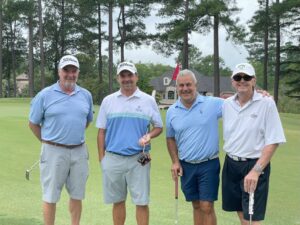 Lisa Perkins said she's beyond thankful for the new golfers this year and those who have faithfully played or volunteered year after year. "We have new golfers, and we have a lot of returning golfers who are always excited to attend this event and have a day away from work for the benefit of a great cause. They're happy to be here and ready to support Catholic Charities and all that we do."
That support comes from all walks of life. 200 golfers on teams of four signed up for the competition on Monday, August 7 on the Fairways and Highlands golf courses at Prestonwood Country Club in Cary. Prestonwood Country Club touts the widest array of golf amenities and services in the Triangle with 54 holes of championship golf offering ideal playing conditions year-round. Rated by NC Golf Panel, all three of their 18-hole courses are featured in the top 100 courses in North Carolina.
Sue Ann Glower is the leadership chair for Catholic Charities of the Diocese of Raleigh Board of Directors. She's watched the golf outing take form and grow into a vital fundraising source that's filling the need to deliver much needed food to our neighbors. Glower said, "While volunteering at the Durham Community Food Pantry, I have seen, firsthand, the great impact our staff and volunteers have on the community. This golf outing will allow Catholic Charities to aid even more people moving forward and I am grateful for your support in making that happen."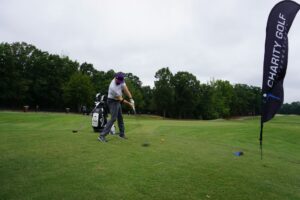 With a break from the usual 95- 100-degree August summer's heat in North Carolina, golf teams came out ready to play. Players started the Captain's Choice tournament at 10 a.m. and represented a great community mix of professions including sports referees, church priests, volunteers, members of the Knights of Columbus, parishioners, doctors and lawyers, business executives, and so many other community supporters. Swing after swing, avid golfers played some serious golf. The team of Thomas Fenn, Mark Corigliano, and Eric Freedman took home 1st place on the Fairways course. 2nd Place was Joe Lipka, Kerrie Debbs, Larry Iwanski, and Kevin Nickodem. Most Accurate Drive – Bobby Fithian and Closest to the Pin – Paul Kester. On the Highlands course, the team of David Kelso, Doug Jacobs, Jason Harris, and Michael Swiger took home the top spot. Followed in second with John Kurtzeil, Margery Huntington, Cris Ugolini, and Billy Deming, Most Accurate Drive – Deb Kargill and Closest to the Pin – Drew Dennis.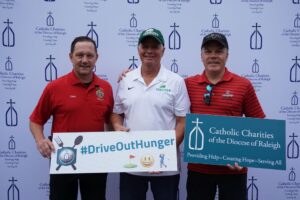 Some participants also joined for some "not so serious" golf. According to sports referee and golfer Charles "Chuck" Guinn, his game was "comical", but he took it in stride and was more than willing to join in for a fun photo opportunity with fellow referee Chris Losack and their Knights of Columbus team. Losack said they came out to have fun on the course and to support their neighbors who depend on Catholic Charities regional food pantries. "Hey, we're having a lot of fun. This is always a great event for Catholic Charities, so we enjoy being out here every year." Losack and his team truly all scored big with this year's outing by helping contribute to the record fundraising amount to date for the annual golf outing, almost $100,000 raised. Fellow Knights of Columbus member Chris Mahoney said, "With Knights of Columbus, we do a lot of charitable work, so that's always a part of our lives so getting an opportunity to do something you like for something good is just a double reward."
CEO Lisa Perkins closed out the event with a huge heartfelt thank you to everyone for their efforts to drive out hunger.
Perkins said, "I just want to say thank you to everyone who participated in the event. It's always a great time and it's great to see people, but to come out here and do this for the 6th year in a row…we're grateful to have this much support."
The golf tournament didn't end with a "goodbye" but instead, a "see you next year" as Catholic Charities increases its efforts to combat food insecurity in the region with the 7th annual Drive Out Hunger Golf Outing, already scheduled for August 2024.