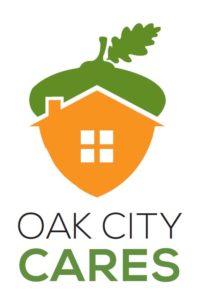 Working to make homelessness rare, brief, and non-recurring in Wake County is no easy task. But Wake County residents have already shown great support of Oak City Cares, a collaboration between Wake County, the City of Raleigh, the Partnership to End and Prevent Homelessness and Catholic Charities of the Diocese of Raleigh, which will provide a coordinated approach to assisting individuals experiencing homelessness.
A $2.5 million campaign is currently ongoing to support the opening of Oak City Cares in April 2019. The Oak City Cares steering committee led by co-chairs Mr. Charles Meeker and Mrs. Trish Healy, as well as honorary co-chairs, Mr. Ron Doggett and Mrs. Barbara Goodmon have already successfully raised over $1 million.
"We are grateful to everyone who has shown early support of this project," said Healy. "But we still have a long way to go until we hit our goal."
Stepping in to help push the campaign closer to meeting its goal are Raleigh residents, Pat and Tom Gipson. Through their family foundation, they have made a commitment to match up to $250,000 of pledges made between October 2nd and December 15th and paid by March 31, 2019.
"This challenge is coming at an important time," said Meeker. "These donations will help ensure that Oak City Cares has the upfront funds needed to open doors in April 2019.
Following the June 20th ground breaking, work on the facility has been non-stop. What used to be an abandoned warehouse at 1430 S. Wilmington St. is now a beehive of activity as construction continues on the Oak City Center facility, which will house the program Oak City Cares.
"We are thrilled to see how much progress has been made at the site," said Mrs. Kathy Johnson, Oak City Cares Executive Director. "Oak City Cares has been a vision for the community for so long, it is exciting to finally see it getting close to completion."
For more information about the Oak City Cares campaign or to donate, please visit www.OakCityCares.org.