Support from local parishes is vital for Catholic Charities offices to meet the many and various needs of individuals and families within the Diocese of Raleigh. Each year, the staff at the Catholic Charities Office in Fayetteville witness the enthusiasm for helping others displayed by local parishes which supports them in providing high quality services to the community.
Even in the midst of the pandemic, this collaboration never stopped coming. Without local churches and their constant support, the office would not have been able to do all that they did. Over the past year, the Fayetteville Office saw an outpouring of donations and funding coming in, even though people were not in church. Instead, parishioners would send money instead or would drop off food themselves.
In addition to allowing Catholic Charities to serve the community, this support from local parishes also provides an emotional boost for staff. The people in the churches and the community kept them going and helped them to believe that there are still good people out in the world that really just want to help.
Over the next few weeks, various parishes that have contributed to the success of the Catholic Charities Fayetteville Office will be highlighted in an ongoing series of posts.
Parish Highlight: St. Elizabeth Ann Seaton Catholic Church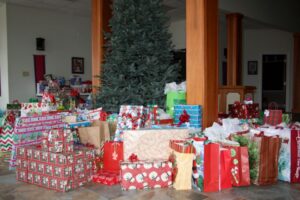 St. Elizabeth Ann Seaton Catholic Church has become a major partner for the food pantry at the Fayetteville office. The Fayetteville office relies on the weekly food collections hosted by parishioners to serve families in the community. Parishioners also contribute in special ways throughout the year. There is a monthly financial donation, a special annual collection, a fall menu food drive, the Angel Tree program at Christmas, a Holy Thursday Food collection, and an annual baby shower.
The annual baby shower is a unique way that the Fayetteville Office receives support for St. Elizabeth Ann Seaton Catholic Church. Marie's Children Closet is a program of the Fayetteville Office which provides assistance for expectant mothers and other members of the community in need of baby articles. Each year, parishioners hold a baby shower to provide an engaging way to gather much needed baby items for Catholic Charities.
"St. Elizabeth Ann Seton has supported Catholic Charities for as many years as any of us can remember," said Kate Kane, parish life coordinator and bookkeeper at St. Elizabeth Ann Seton.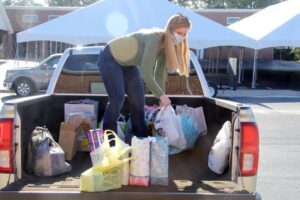 "Our parish formed in 1980 and was built by the community and several of those founding members are still here.  It is because of that sense of community within our congregation that the ongoing support of Catholic Charities continues," commented Kane.
Members of St. Elizabeth Ann Seaton have continued to support Catholic Charities, even during the most challenging of times.
"Parishioners continue to step up even in times when our own community was affected including special collections for Hurricane relief and support during the pandemic. When we weren't able to meet as a community this past year, parishioners continued bringing in donations." concluded Kane.