On Saturday, October 29th, Boy Scouts from Troop 352 in Raleigh gathered at the home of Benjamin Pappas to load donated supplies onto the Catholic Charities Tar River Office box truck. This event was the culmination of months of work to help Catholic Charities prepare for the next hurricane.
Benjamin has been involved in scouting for almost ten years, beginning as a cub scout before moving up to the boy scouts.
"I love the leadership opportunities Scouts BSA provides. This is one of the only places where kids and teens can be treated as adults." shared Benjamin. "As soon as you join Scouts BSA, you are given opportunities to lead camping trips, take up roles in your Troop, and work with adults like you are an adult. Scouts BSA is a place to practice leadership and make mistakes so that you can be prepared for future leadership roles."
Benjamin was able to demonstrate these leadership skills by completing his Eagle Scout project as part of reaching the highest rank within scouting, something only approximately six percent of scouts achieve. Scouts are required to, "plan, develop, and give leadership to others in a service project helpful to any religious institution, any school, or your community."
"I chose Catholic Charities for my Eagle Project because I wanted a beneficiary that would work with me every step of the way." shared Benjamin. "They cared about the project as much as I did, and that care was evident throughout the course of the project. I also admire Catholic Charities' mission to help support communities and knew it was an organization I could stand behind."
Benjamin worked with Daniel Altenau, Director of Communications and Disaster Services for Catholic Charities, and a fellow Eagle Scout, to coordinate the logistics of the project.
"As a teen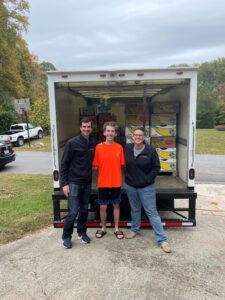 ager, I really enjoyed and appreciated my time as a Boy Scout. I developed many skills which I continue to use in my life today." shared Daniel. "My own Eagle Scout project was disaster related working with the American Red Cross. When Benjamin reached out to me, I was excited to share a similar experience with a fellow scout and support his project."
During the fall, Benjamin and his fellow scouts worked to collect donations which could be pre-positioned at the Catholic Charities Tar River Regional Office. They collected hygiene items, cleaning supplies, and non-perishable food. The scouts collected supplies from their family and friends, organized outside of local grocery stores to encourage customers to buy and donate goods, and publicized the collection through neighborhood social networking pages.
"My favorite part of the project was seeing the Catholic Charities box truck come by to pick up all of the donations. Seeing months of work come together in that moment was magical." shared Benjamin.
After these supplies were loaded on the box truck, they were delivered to the Tar River Regional Office which has the warehouse space needed for storage. All donated items were weighed and came to a grand total of 1,298 pounds of disaster supplies to help families recover from the next disaster.
"We are grateful to Benjamin and his fellow scouts for their work to support our Disaster Services program." shared Daniel. "As a nonprofit, we rely on our community to achieve our work. It is inspiring to see individuals like Benjamin take interest in our work and lead this effort to provide help to others."