You will need: 
About 6 apples. Any kind works but soft apples, such as Fuji or Golden Delicious, are easiest to use.
1/4 cup sugar
2 tablespoons cinnamon
1 teaspoon nutmeg
Directions:
Wash and cube your apples. The size can depend on how chunky you like your applesauce. You can peel them if you prefer no skins, but I like the added texture. 

Add the apples, about a 1/2 cup of water, sugar, and spices to a medium sized pot.
Simmer over medium-low heat until the apples are soft.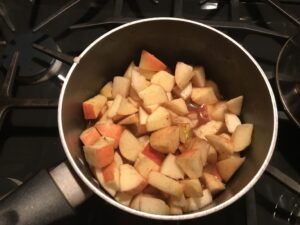 4. Using a fork, squish the apples against the side of the pot to make the texture more smooth (optional)
5. Enjoy hot off the stove and refrigerate the leftovers!