Alcachofas Asadas con Queso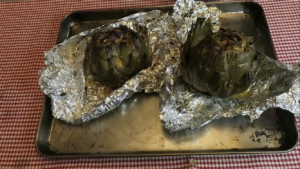 ¿Alguna vez has preparado una alcachofa entera? Definitivamente no lo había hecho, pero cuando nos metimos en una paleta entera de alcachofas hace unas semanas, ¡aprendí! Esta receta de alcachofa con queso asado adaptada de Tasty estaba DELICIOSO.
Necesitará: 
1 artichoke
4 cloves of garlic
1 cup parmesan (or whatever cheese you have)
1 tablespoon parsley
2 tablespoons olive oil
Salt and pepper to taste
½ lemon
Instrucciones:
 Precaliente su horno a 425 grados F

Corta el tallo de la alcachofa y la parte superior de las hojas.

Use un par de tijeras para recortar la parte superior de todas las hojas.

Exprima medio limón sobre la alcachofa y rocíe aceite de oliva, sal y pimienta por encima y entre las hojas.

Untar el ajo por todas partes y entre las hojas.

Coloque en un trozo de papel de aluminio y agregue el queso y el perejil por encima y entre las hojas.

Envuelva la alcachofa y hornee durante aproximadamente una hora y media.

 ¡Desenvuelve y disfruta!  Para comer: Quite una hoja y use sus dientes para raspar la parte carnosa.  Deseche el resto de la hoja.  Una vez que las hojas se hayan ido, corte o arranque la sección rosada y plumosa para llegar al corazón de alcachofa en la parte inferior.  ¡Sumerja en mantequilla o en su salsa favorita!