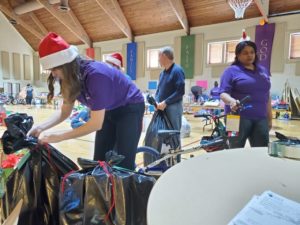 For many people, the holidays are a season filled with good tidings and cheer. But for others, the holidays can be a time of anxiety, unhappiness, and a mix of other emotions when they're unable to provide gifts for their families. In the spirit of the season, many volunteers and supporters from various Catholic Charities offices across the diocese collaborated to share cheer with families in need.
In Raleigh, the Support Circle Program, which empowers families experiencing homelessness secure and maintain permanent housing, partnered with Pride for Parents, a program of The Encouraging Place of Wake County. This annual toy and gift sale is designed to benefit families at Christmas while respecting their dignity. Through donations of new and gently used toys and gifts, current clients of the Support Circle Program were able to obtain quality affordable toys for their children.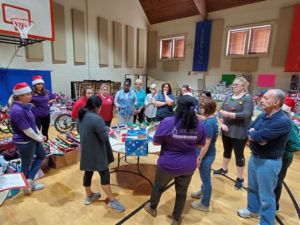 "This initiative gives parents the opportunity to select and buy toys for their own children for a very low cost and empower them to become more independent," said Sharon Mitchell, Support Circle Program Director.
At Centro Para Familias Hispanas in Raleigh, Santa's sleigh parked for cookies and donuts and made an appearance at their annual party for Latino families. Some 150 families with their children enjoyed gifts, games and, of course, photos with Santa Claus.
Thanks to the generosity of parishioners from St. Elizabeth Ann Seton in the Fayetteville region, over 20 families were able to receive turkeys for their Thanksgiving Dinners. The Knights of Columbus also shared in the holiday spirit by assembling and distributing 4 turkey dinners for families in need. When Christmas came around, the parishes of St. Patrick Catholic Church and St. Elizabeth Ann Seton collected gifts for over 50 families and their children.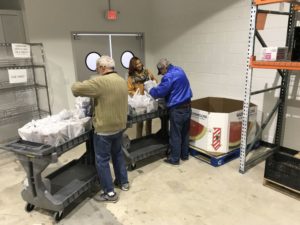 At the Catholic Charities office in Wilmington, during the early days of December, staff and volunteers were focused on ensuring families were able to enjoy the holiday season through the "Wrapped with Love" Christmas Program. Around 400 children from six counties in southeastern NC were able to access gifts for their children. Some children who received gifts were in foster care, some lived in families experiencing homelessness, and others who were disaster survivors and are still working on recovering from the storm.
Early in December, parishioners from Holy Cross Catholic Church in Durham held a food packing party at the recently opened Durham Community Food Pantry. They collected and packed 797 pounds of food, including holiday treats such as Christmas cookies, which were distributed to the food pantry clients just before Christmas.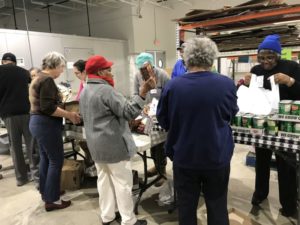 Also at the Durham Community Food Pantry, around 100 Christmas stockings were filled with gifts to children by the students at Immaculata Catholic School. Once gathered, the gifts were distributed by Catholic Charities case managers to families.
"It is a special privelage to be able to help tohers, especially during the holiday season," shared Lisa Perkins, Catholic Charities Executive Director. "I am grateful to our volunteers, supporters, community partners and staff members who made this possible."