Catholic Charities of the Diocese of Raleigh and St. Thomas More Parish are partnering with The Green Chair Project and Triangle Red Cross to provide assistance to victims of the June 30 – July 1 rainfall that caused flooding for some Orange County residents.
The agencies are coordinating a furniture donation drive scheduled for Saturday, July 20, 2013, from 10 a.m. until 4 p.m. They're encouraging the public to donate household items such as couches, chairs, dressers, bed frames (but no mattresses), dining tables, lamps and household accessories. Collection points will be The Green Chair Project located at 1853 Capital Blvd. in Raleigh and St. Thomas More Parish located at 940 Carmichael St. in Chapel Hill.
"The main urgency here is that more than 40 families need help all at once," explained Rick Miller-Haraway, director of the Raleigh Regional Office of Catholic Charities, about the people who lost everything when their apartments and mobile homes were damaged by flood water.
In addition to receiving furniture, some victims need other services as well. Catholic Charities plans to offer need-based assistance with transportation of furniture and security deposits for electrical and utility services, as well as rental deposits for new apartments.
The victims, who are currently sheltered by Triangle Red Cross, are expected to begin selecting furniture for their new living spaces at the end of July. They will choose furniture from inside Green Chair's showroom, which is arranged like a furniture store and located just south of the beltline.
"This is an opportunity to help 45 families improves their lives. That's a huge impact," said Lisa Perkins, incoming regional director of Catholic Charities' Piedmont Deanery. "This is our mission."
This is the second time Catholic Charities has partnered with The Green Chair Project. They coordinated a similar effort for local tornado victims in 2011. And Green Chair provides furniture on an ongoing basis to members of Catholic Charities' Support Circles Program.
The agencies have put together a list of acceptable items:  http://www.thegreenchair.org/form-donate-household-goods.php.
Catholic Charities regional offices in the Piedmont Deanery is accepting monetary donations to assist in this effort.  Checks may be made out to Catholic Charities, 902 Broad Street, Durham, NC 27702. In the subject line of the check, please note Flood Relief.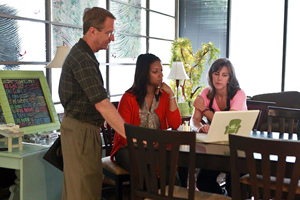 Above: Catholic Charities' Raleigh Regional Director Rick Miller-Haraway and Piedmont Regional Director Lisa Perkins with Jackie Craig, co-founder of Green Chair Project during planning for assistance to Orange County flood victims.