Food insecurity is often accompanied by other issues which exacerbate the challenges individuals are facing. The Healthy Opportunities Pilot, or HOP for short, is a new holistic approach undertaken by the NC Department of Health and Human Services to address shortcomings in housing, food, transportation, and interpersonal safety and toxic stress. This program is designed to help struggling, high-needs Medicaid enrollees by providing non-medical interventions to improve health outcomes.
Many of the enrolled individuals have been referred to the Tar River Regional Office by Access East, the organization responsible for overseeing the HOP program in Eastern North Carolina. The Tar River office has specialized in responding to referrals for HOP food box deliveries. Once the Tar River office receives a referral, they will continue to deliver HOP food boxes to the individual's home for the duration of their enrollment, which typically lasts 3-6 months. In the past year, participation in the HOP program has helped the Tar River Office widen its food pantry program and service area, doubling the number of families assisted each month.
Liz McDowell, Regional Director of the Tar River Region, describes the impact of the opportunity on Catholic Charities, "It's given us the push to get into a bigger space because we're moving a lot more food, and because of HOP, we're also in more counties that are in our region."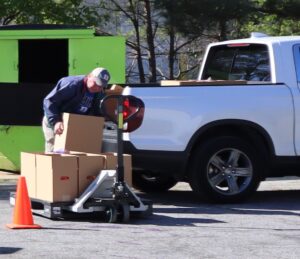 She further elaborates that it has allowed for the acquisition of freezers, which they did not have access to before. "We are putting out produce in more of our food boxes because of the increased refrigeration space. That helps families have access to fruits and vegetables that they might not have before."
The HOP program has also helped the Tar River Regional Office expand their Mobile Food Pantry operation. "Since we're making trips into different counties because of HOP, we started doing mobile pantries in those counties as well. We have two mobile pantry sites in Edgecombe County, one in Tarboro, and one in Rocky Mount. We also have a mobile site in Halifax and Northampton counties." McDowell added that the ability to expand assistance to areas with fewer resources is one of the program's benefits.