Catholic Parish Outreach Food Pantry – Raleigh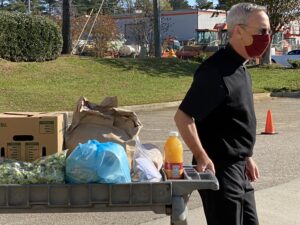 As the Thanksgiving holiday approaches, Catholic Parish Outreach (CPO) is experiencing its busiest time of the year. Hundreds of individuals and families are served in this time leading up to the holiday.
On Tuesday, November 24th Bishop Luis Rafael joined CPO volunteers as they distributed food to clients. He spoke with volunteers before food distribution began and thanked them for their faithful service.
This year food distribution was different due to COVID-19. The room where clients usually wait for a ticket is now full of boxes with masks and hand sanitizer. Volunteers are the ones waiting for their turn to bring a cart full with food to individuals and families who are waiting in their cars.
CPO, which has served the Triangle community for decades, is the largest food pantry in the Triangle. On Monday, 239 families were served, on Tuesday 126 families were served, and on Wednesday approximately 225 families were served. This meant that over the course of those three days, enough food was distributed for over 2,000 individuals.
"We needed to pre-pack food so that we could be open Monday, Tuesday and Wednesday instead of the usual pandemic days of Monday, Wednesday, Friday." shared Kelly Rappl, Director of Catholic Parish Outreach Food Pantry. "We also had to streamline the process so we could handle over 200 cars each day and not tie up traffic on Raleigh Blvd in the process."
The coronavirus has changed the way of operating, but not the collaborative spirit of the volunteers, many of whom have been there for several years. Although some have stopped attending during the quarantine, many have maintained the same enthusiasm.
Trio Doan, one of the volunteers with several years of experience, said he feels very happy to be able to help others through the volunteer service that he has been doing for more than a decade.
"I have received many blessings in my life, I like knowing that I can help others." says Doan.
"This year, more than ever, we are reminded how strong CPO is when those in the community share their time, talent, and treasure. Being a part of that is very special and I am very grateful to work at CPO with such amazing people! We are a family!" concluded Rappl.
---
Albemarle Region
As with other areas, Thanksgiving assistance looked different in the Albemarle Deanery. The traditional Thanksgiving meals provide by the Holy Family Knights & parishioners was canceled due to the restrictions of COVID-19. Determined to find a safe way to assist others, the Holy Family community took up a collection which collected enough funds to distribute food gift cards to 37 families impacting the lives of 128 individuals.
---
Cape Fear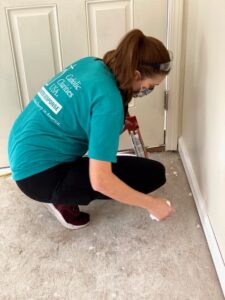 In the Cape Fear Region, many people still face difficulties due to the consequences of Hurricane Matthew and Hurricane Florence. Many other agencies distribute food for the holidays, so Catholic Charities staff spent their time leading up to Thanksgiving helping survivors in other ways, including participating in "The Repair Affair," repairing homes.
Because of the pandemic, many rebuilding ministries have had difficulty finding the volunteer labor they so heavily rely on. The goal was to complete 50 rebuilds this summer, but with teams cancelling their summer mission trips to the area, very little was accomplished.
Therefore, staff and other disaster partners helped put some of the final touches on homes during the Repair Affair to make them livable again. This event was a way for volunteers and partners to give back and help the recovery move along.
---
Fayetteville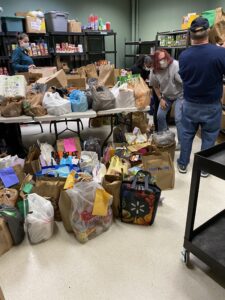 This year the Fayetteville Region was extremely busy with clients requesting and receiving assistance. The parishes of St. Elizabeth Ann Seton and St. Patrick Catholic Church conducted food drives and delivered over 7,000 pounds of non-perishables to the Fayetteville office. Additionally, private donors gifted the food pantry with in-kind and financial donations which allowed the office to distribute turkeys to 18 families.
Over the course of 5 days , Fayetteville staff and volunteers assisted 67 families impacting the lives of 218 individuals by distributing 111 bags of food.
---
New Bern
This Thanksgiving, Suzanne Garcia from Shabach AME Zion Church in Vanceboro was looking for help, but not for herself. She was aware of a family from Honduras who was starting over and had many needs, with the highest priority placed on finding another place to live. Garcia jumped in to help. After some searching, the family was able to find a home, and their father found a full-time job while his wife stayed home to care for their 4-month old baby and a 8-year-old daughter.
Once new housing had been found, the family was left trying to address other needs. Inspired by their story, several community members, including Garcia, began asking their friends for donations of furniture, clothing, and household items to help this family get on their feet.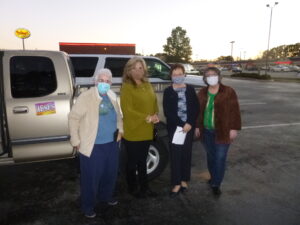 That is when Garcia reached out to Agnes Barber, Program Director of the Catholic Charities New Bern Office, for help with some of the remaining needs. Barber made contact with a supporter of Catholic Charities, Doris Norton, who relayed that her sorority, the Laureate Beta Chapter of Beta Sigma Phi Sorority, was looking for a family to support.
Barber and Norton then discussed the needs of the family and the sorority agreed that they would provide food and clothing on a monthly basis, especially at Thanksgiving and other major holidays, for the next year.
"We are grateful to Suzanne for coming to us and the Laureate Beta chapter of Beta Sigma Phi Sorority for working with us to help make this holiday a little more special despite all the challenges of this year!" shared Barber.