This April, Catholic Charities staff took an extra moment to thank the volunteers who are critical to making Catholic Charities of the Diocese of Raleigh the best Catholic Charities in the country! National Volunteer Week was celebrated during the week of April 16-22 and provided a special opportunity to highlight the countless hours of service that volunteers dedicate to our community.
In her letter to volunteers, Lisa Perkins, CEO, praised the impact volunteers make by saying, "Last year, you were part of a team of 750 volunteers contributing over 34,690 volunteer hours, allowing Catholic Charities to assist over 158,000 individuals!"
During the week, the celebration of volunteers continued with events and activities that recognized their hard work and commitment. On social media, individual volunteers were showcased with images demonstrating the positive impact they have in serving our neighbors in need. As part of the fun, the Catholic Charities communications department asked the new artificial intelligence platform, ChatGPT, to share the top five reasons to volunteer at a food pantry! Check out Catholic Charities on Twitter, Facebook, and Instagram to see what "Chat" had to say.
While highlightin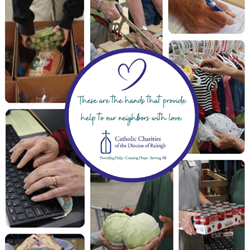 g volunteers, it was particularly impactful to acknowledge volunteers who have been with Catholic Charities for many years, continuing to give their time and energy in support of our mission. The steadfast support of these volunteers is the cornerstone of Catholic Charities. Additionally, the Catholic Charities volunteer family continues to grow. Staff have been thrilled to welcome new volunteers whose enthusiasm and fresh perspective will help the agency continue to grow and serve those in need.
Individuals interested in volunteering can serve in a variety of ways including sorting and organizing groceries at one of five food pantries, assisting immigrant families, or repairing homes damaged by past disasters. There are opportunities for many different interests and schedules. For more information, please visit www.CatholicCharitiesRaleigh.org/Volunteer.