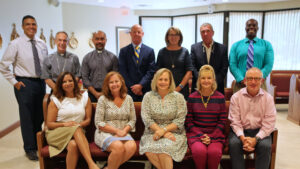 Each year, the Catholic Charities Board of Directors gathers to welcome new members. This September, for the first time in two years due to COVID-19, the Catholic Charities Board was able to gather in person to celebrate this event.
On Sept. 2 a commissioning ceremony was held in the chapel of the Catholic Center, which is the main office for the Diocese of Raleigh. Bishop Luis Rafael Zarama presided over the ceremony and thanked the new board members for responding to the call to serve Catholic Charities in this capacity.
"We are grateful to all of the Catholic Charities board members for their support of our agency," shared Lisa Perkins, Catholic Charities executive director. "We are particularly excited to welcome our new board members today as they join us on this journey of providing help and creating hope for our neighbors in need."
Joining the 11-person Catholic Charities Board were Margaret Donovan Struble and Father Randy Gonzales, C.I.C.M.
The commissioning ceremony also recognized other changes to the Catholic Charities Board. Karen Swoboda was named board chair and Sue Ann Glower was name board vice chair. The new chancellor for the diocese, Luis Capacetti, J.C.L., was appointed as an ex-officio officer of the board in the role of secretary.