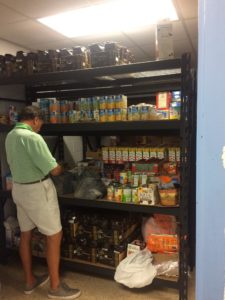 During the month of August, the Catholic Charities Office in Wilmington will expand food pantry hours.  Normally, the food pantry is only open on Fridays.  During the month of August, the pantry will be open Tuesday – Friday from 9 a.m. – 11:30 a.m.  This temporary service expansion is needed while the Sister Isaac Center temporarily closes.
Ms. Emilie Hart, Catholic Charities Cape Fear Regional Director, commented on this change, "The Sister Isaac Center provides a critical service to the community throughout the year.  While the clinic is closed for August, we are happy to adjust our services to meet the needs of the community.  Mary Ann Kotas, the Director of the Sister Isaac Center, and I felt it was important to work together to serve the community in this way."
Throughout the year there is close collaboration between Catholic Charities and the Sister Isaac Center.  Twice a month a Catholic Charities case manager organizes a presentation for clients about community resources, distributes a job list, and schedules appointments with individuals who have complex needs that can be addressed through case management and advocacy.
During the month of August, the Sister Isaac Center closes to allow staff time to pray, meditate, paint, and clean the outreach space. This time ensures that the environment is always inviting to the guests who utilize the services.
"During the summer months, food donations tend to drop." Ms. Hart explained. "We need the help of the community, especially now when we are expanding our services, to help the families who come to us looking for help."  Please contact the Catholic Charities Cape Fear Office at (252) 251 – 8130 for more information about donating food.  If are unable to donate food but would like to make a financial contribution to help the office purchase food, please visit our website at www.CatholicCharitiesRaleigh.org/donate.