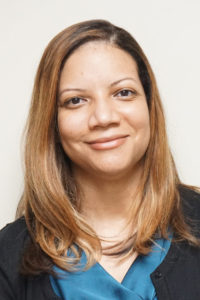 Catholic Charities is excited to announce that Bishop Luis Rafael Zarama has appointed Ms. Lisa Perkins to the position of Executive Director. Ms. Perkins had been serving as the Interim Executive Director of Catholic Charities since June of 2017.
"I am excited to assume the role of Executive Director and I am humbled by the opportunity to lead a team that works daily to impact lives and enhance communities." Ms. Perkins shared. "I am thankful that Bishop Zarama and the Board of Directors have afforded me the opportunity to carry out the mission of the Bishop as we serve those most in need."
Ms. Perkins is a Licensed Clinical Social Worker and has a Master of Social Work degree from the University of Pittsburgh and a Bachelor of Science degree in Social Work from Slippery Rock University. She has worked for Catholic Charities of the Diocese of Raleigh for nine years in a variety of ways.
Ms. Perkins began her work with Catholic Charities as the Regional Director of the Fayetteville Deanery before moving to serve as the Regional Director of the Piedmont Deanery. She was then promoted to the role of Assistant Director where she began coordinating programming across the agency.
"Lisa has demonstrated such commitment to the mission of Catholic Charities." Bishop Zarama stated. "I am grateful to have her directing the work of Catholic Charities as they compassionately serve our brothers and sisters in need."
Catholic Charities has a rich history of serving the most vulnerable populations across eastern North Carolina. As Executive Director, Ms. Perkins will lead Catholic Charities as they focus on serving families through their core programs of disaster services, emergency assistance, immigration services, services in support of the family, and parish and community engagement.