On Saturday, April 18, Catholic Parish Outreach (CPO) hosted its 2nd Annual Pig Pickin' and Open House! With a guided tour through the food pantry, guests had the opportunity to learn more about the food distribution, experiences from volunteers, and client stories. At the end of the tour, guests enjoyed delicious pork, hush puppies, coleslaw, and potato salad prepared by the Sacred Heart Cathedral Knights of Columbus. Sherman Lee Dillon entertained the crowd with bluegrass music. He invited special guests Dennis Cash and his daughter, Anna, to create a special, family-oriented concert. Guests loved the music and enjoyed dancing under the sun!
The event raised over $7,200 for Catholic Parish Outreach. The 352 guests included CPO volunteers, donors, Catholic Charities staff, Fr. Justin Kerber and Fr. Ed Wolanski of Sacred Heart, and Fr. Bob Schriber of Our Lady of Lourdes. All proceeds will go towards providing food for families who experience food insecurity; this money will allow CPO to continue to serve over 10,500 individuals a month. The support from volunteers, sponsors, and the community will help raise awareness to end hunger in Raleigh!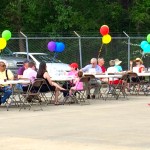 We would like to thank the following sponsors who made the event possible:
Crown Roast Sponsors:
Anonymous CPO Friend
John and Amy Brien.
Medallion of Loin Sponsors:

Schuette Law of North Raleigh,
An Anonymous CPO Friend,
Roberta and Rick Miller-Haraway,
Emily and Jeff Vista,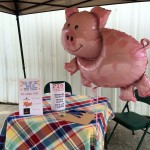 The Knights of Columbus of the St. Francis of Assisi Council,
The Knights of Columbus of the St. Luke the Evangelist Council.
Visit our Facebook Page to see all the photos from the event!