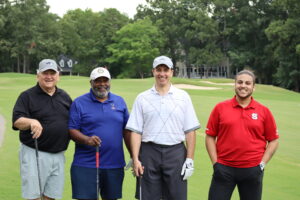 Teeing off to fight hunger in central and eastern North Carolina, over 200 golfers gathered on Monday, August 15th at Prestonwood Country Club in Cary for the 5th Annual Catholic Charities Drive Out Hunger Golf Outing. The event raised over $70,000 to support the five Catholic Charities food pantries spread across the Diocese of Raleigh.
"We were excited to make it to the 5-year mark today," shared Katey Fithian, development director for Catholic Charities. "We were really encouraged with the initial success of this event back in 2018 and grateful for what is has grown into."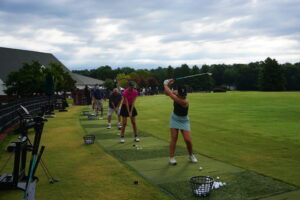 This was the second year that the event sold out. "We had to close registration in mid-July this year, which is the earliest that has ever happened. We are thankful that so many members of the community want to participate and support this event." shared Fithian.
Golfers were uncertain as a brief shower passed through as instructions were shared for the Captain's Choice style tournament. However, by the time participants began play, the rain ended, allowing golfers to enjoy comfortable weather, ensuring a good time for all.
"We've been playing in this golf tournament now, this is our fourth year, and it has been fabulous. Every year has been better than the last." shared Angela Padgette.  "It is a great cause and we love doing it, this is wonderful."
A fan favorite of the event were the long drive professionals, Landon Gentry and Colton Castro. Each foursome had the opportunity for these professionals to tee off for them on the longest par 5 of each course, offering teams their best chance to eagle the hole.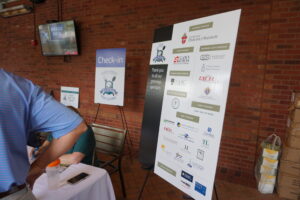 "With the way families are struggling with food and feeding their families, we've all been to grocery stores and see how prices have changed." shared Lisa Perkins, chief executive officer for Catholic Charities. "Just to have an event like this where people come out and support our efforts to feed families in the community has been a wonderful thing."
The success of the Drive Out Hunger Golf Outing will help the Catholic Charities food pantries continue to distribute approximately 3 million pounds of food each year, making Catholic Charities the largest provider of food in eastern North Carolina.