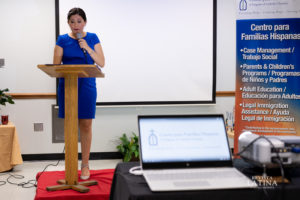 For the third consecutive year, Centro para Familias Hispanas welcomed spring by opening its door to community members, sponsors and volunteers. On Thursday, April 11th the organization hosted their annual Open House at their facility located at 2013 N. Raleigh Blvd in Raleigh.
Over 60 people gathered at Centro para Familias Hispanas to learn about their various programs that are offered, including: Support of the Family Services, Adult Education Classes, Smart Start Funded Childhood Development Programs & Services, Legal Immigration Services, After-School Reading Tutoring and an Employment Program.
Maty Ferrer, Program Director of Centro para Familias Hispanas, highlighted the value of the services that are offered to the Latino community and mentioned that 2,409 families benefited from their programs. She then invited the audience to get involved by volunteering time to help families in need or by making a donation to support the Center.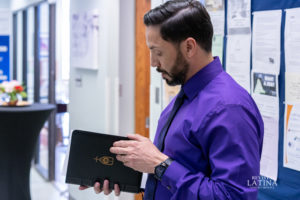 "We had many attendees that came for the first time. The feedback we received from them was that they enjoyed the evening very much and that they were very inspired by the work we do here. All comments were positive, and they felt inspired to also do their part to help the community" Maty, concluded.
Centro para Familias Hispanas began in 1997 after Hurricane Frank devastated the Raleigh area, impacting dozens of Hispanic families. Last year: 120 students benefited from vocational classes and English as a Second Language classes offered by Wake Tech; 134 families were part of the reading and language program called Language is the Key; and about 35 children have participated in their after-school programs.