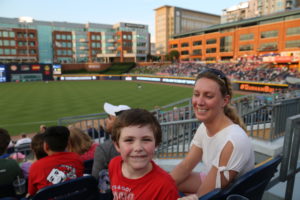 More than 300 supporters of Catholic Charities gathered at the Durham Bulls Athletic Park Friday, July 27 for Pitch in for Charity. Fans enjoyed pre-game food trucks and post-game fireworks, as well as a Durham Bulls – Syracuse Chiefs game that came down to the final out.
Before the game the Durham Bulls presented a check to Catholic Charities executive director Lisa Perkins.
"Catholic Charities was able to raise over $1,500 tonight," Perkins explained. "That money will be used to support families throughout the regions we serve."
In addition to the fundraising aspect of the evening, the event serves as an important opportunity for Catholic Charities to engage with the community.
"We are just elated to spend time with all these great people at this great event," Perkins said.
Robert Fithian, 5, represented Catholic Charities and announced, "Play Ball!" to get the game started.
David Williams, a parishioner from Cary's Mother Theresa Mission, attended the game with his wife, Mary Louise, and his daughter Annie.
"I've always supported Catholic Charities," Williams, who first learned of the event by reading his parish bulletin, said. "We thought it would be a great opportunity."
A fan of home runs, Williams was happy to see three balls leave the field of play. The Durham Bulls celebrated their runs by lighting up the red eyes on the iconic, billboard-sized bull over the outfield fence. And, as is tradition, puffs smoke came through the wooden bull's nose.
After the final out was recorded in what turned out to be an 8-10 loss for the Bulls, Catholic Charities staff members were involved in the fireworks show. Jeremy Ireland, Piedmont regional director, Elise Mudd, Durham Community Food Pantry program director, and Kelly Rappl, Catholic Parish Outreach program director, counted down from 10 to start the colorful fireworks display.