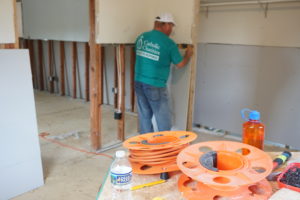 Hurricane Matthew
Repair Project
No projects are currently scheduled.  Please check back in February to find out when the next NC Catholics Volunteer project will take place.
Volunteers play a very important role in the services that Catholic Charities provide.
Volunteers work with poor and vulnerable families of all faith traditions, and quite a few only speak Spanish.
Throughout all of our offices we have volunteers working in the following capacities: filing, reception, working in the food pantry (stocking shelves with food, organizing and implementing logistics for food donations and distribution), entering data, and organizing donated clothes.
Volunteers can also be trained to assist with our Family Support Services program. Some responsibilities include: conducting screening interviews to identify clients' needs, assisting in the ESL or GED classes, assisting with resume writing, and working in the childcare area.
Each office provides different services and has specific volunteer needs. For more information or to learn about the specific volunteer opportunities currently available, please contact the office nearest you.
Hurricane Matthew Volunteer Efforts
                      
NC Catholics Volunteer
Catholic Charities of the Diocese of Raleigh and the North Carolina Knights of Columbus have partnered to create NC Catholics Volunteer.  This group provides the opportunity for residents of North Carolina to answer Jesus' call to serve one another and assist families in their time of need.
Volunteer events are currently being organized and will be listed here once dates have been scheduled.