---
Event Details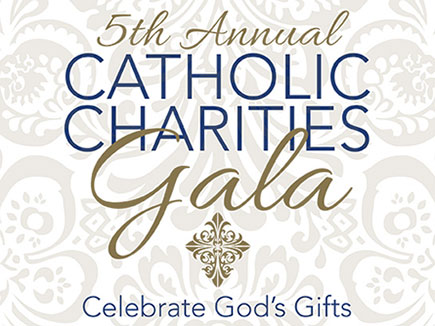 Our 2015 Gala was held on Saturday, April 25 at the Downtown Raleigh Marriott with 350 guests gathering to celebrate the great works of Catholic Charities. Through the generosity of many sponsors and guests, over $233,000 was raised to further our mission of serving those in need throughout Eastern North Carolina. The joyous evening included a performance by the North Carolina Youth Philharmonic, silent auction and remarks from Dr. Carolyn Woo, President and CEO of Catholic Relief Services. Dr. Woo spoke about food and those who are hungry. " It's not because of scarcity. It's about abundance; we have enough food for everyone. It's how we share it," said Dr. Woo. "This work is also God's work. The good news is, it doesn't all depend on us."
Speaker
Distinguished Guest
Dr. Carolyn Y. Woo
President and CEO, Catholic Relief Services
Dr. Carolyn Y. Woo is President & CEO of Catholic Relief Services, the official international humanitarian agency of the Catholic community in the United States. She came to CRS in January 2012 after a distinguished academic career.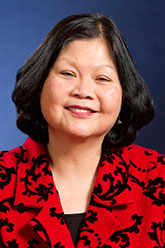 Dr. Woo's Catholic News Service monthly column took first place in the 2013 Catholic Press Association Awards in the category of Best Regular Column- Spiritual Life. Before coming to CRS, Dr. Woo served from 1997- 2011 as dean of the University of Notre Dame's Mendoza College of Business. She was a recipient of honorary doctorates from Providence College, University of St. Francis, Lewis University, as well as the University of Notre Dame. She was the first female dean to chair the accreditation body for business schools (AACSB: Association to Advance Collegiate Schools of Business) and directed its initiative for Peace through Commerce.
Dr. Woo was educated by the Maryknoll Sisters in Hong Kong. She is married to Dr. David E. Bartkus, whom she met at the Newman Center at Purdue University and they have two sons, Ryan and Justin.
Sponsors & Committee
We would like to thank all of our 2015 Gala sponsors and committee members, the event would not have been possible without their generosity. For sponsorship information or to join the committee next year, please contact Katey Fithian at Kathryn.fithian@raldioc.org or 919-821-8142.
Platinum Sponsors
Colleen and James Baker/Kerry and Tim Mann
Realo Discount Drugs
Gold Sponsors
Affordable Communities Group
The Doggett Family
Mary Ellen and Joseph Gustainis
Trish and John Healy
Maria and Bob Luddy
The Law Offices of John M. McCabe, P.A.
Peggy and Bruce McWhinney
Maria and Rob Moloney
Red Hat
St. Joseph of the Pines
Silver Sponsors
AON Hewitt
BDO USA
Linda and Paul Bedo
Patty and John Byrne
Fran and Tim Buckley
Captrust Financial Advisors
Friends of Catholic Parish Outreach
Alyce and Bill Cavanaugh
Dr. and Mrs. Mark Dellasega
Equestrian Order of the Holy Sepulchre of Jerusalem
Fifth Third Bank
Vicki and Ed Fritsch
Sue Ann and Donald Glower
Iren and Mark Hianik/Molly and Scott Mahoney
Emily and Travis Knick
Maureen and Tom Lindgren
Anne Marie and Wayne Maiorano
The Fighting Irish (Friends and Alumni of
the University of Notre Dame)
Paragon Bank
Poyner Spruill, LLC
Cathy and Dean Penny
Raleigh Paving
S&A Communications
Friends of Sacred Heart Cathedral
Terry Shackelton
Liz and Joe Smith
Adrienne and Deacon Stephen Yates
Mimi and Henry Zaytoun/ Mary Paula and Pat Steele
Friends of St. Ann, Fayetteville
Friends of St. Ann, Clayton/St. Michael, Cary
Committee Chairs
Gala Chairs: Maureen O'Keeffe Lindgren & Rebecca McCabe
Sponsorship Chair: Tom Lindgren
Silent Auction: Linda Bedo & Liz McKee
Technology Chair: Emily Knick
Décor: Vicki Fritsch
Patron Appreciation: Anne Davis & Wendy Moore
Parish Coordination: Cathy Penny
Volunteers: Tanya Breslin
Day of Event: Jen Frazer & Olivia Martin
Young Adults: Jillian Totman
2014 Chair: Trish Healy
Anne Burge
Fran Buckley
Ellen Crowley
Sue Ann Glower
Iren Hianik
Anne Marie Maiorano
Liz Smith
Mimi Zaytoun
Thank you to ADS Printing for the generous donation of printing.
Slideshow & Videos
Dr. Carolyn Woo's address to the audience:

Opening remarks from Executive Director Gary Skinner:

Bishop Burbidge's remarks at the Gala:

NC Catholics Magazine Writer Kate Watson Interviews Dr. Woo
---